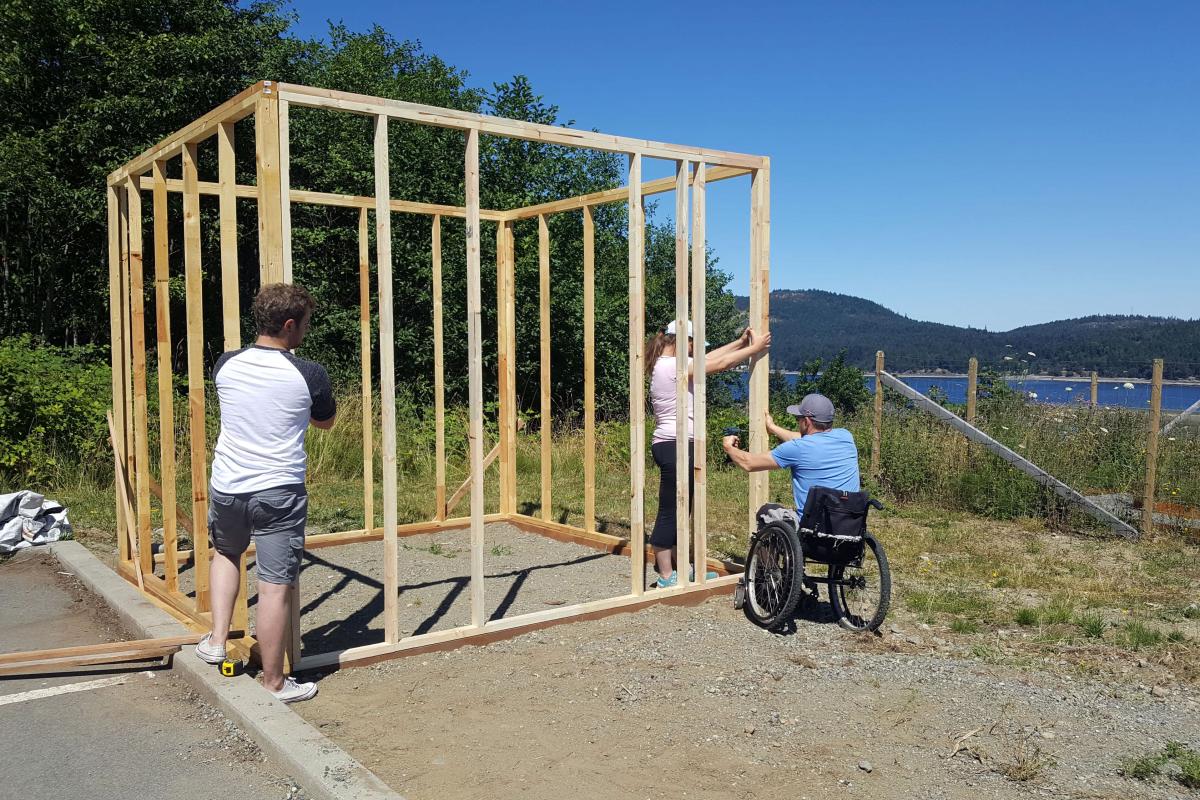 This summer has been a good one for the Snaw-Naw-As Garden of Spiritual Healing. Located in Nanoose bay, a dedicated group of elders and community members have been hard at work growing a variety of fruits and vegetables as well as a number of traditional native plants such as Devil's club. Overlooking the Salish Sea, the garden is a small oasis that I have been fortunate enough to visit and work on every week (I have the sun burns and tan lines to prove it). Now in its second summer of construction, we were tasked with building more garden beds, a shaded sitting area and most recently, a smokehouse. Now nearing completion, the smokehouse marks the final stretch of summer before we have to gear up for a new semester (is it that soon already?).
This project has been a positive journey so far. Not only has it been about the construction of the garden itself, but it has also been a journey of relationship building between MABRRI and the Snaw-Naw-As Nation and within MABRRI itself. Nearly every week, construction has included my co-workers from almost every project and discipline. Aside from the two who have been championing the garden – Ryan and Graham – we have been joined by Alan and Kirby, two of our MCP students; Roxanne, Kidston, and Courtney, our recent VIU graduates; Carson, our resident Tourism undergrad; and finally, myself. As a team, we spent the days together greening our thumbs and dirtying our hands. Most days, the office is simply a revolving door as we are all so incredibly focused on our own research and work in and out of the office. The garden, however, has in its own way provided us a place to come together, catch up and spend a day building in the sun as a team (and share a sunburn or two). For us at MABRRI, it's almost as though it's been our own garden of healing (except for the sunburns; have I mentioned those?). Being one of the new hires this summer, the garden has proven to be one of the best relationship builders between myself and my co-workers.
Even more humbling and eye-opening, though, has been the community's perspective on the garden. For any project involving a community, the human element is always the most important aspect. This week has been spent alongside the film crew for Striking Balance, as they work on a documentary series of Canada's Biospheres (I'm going to be on TV mom!). As we were finishing up at the garden yesterday, I helped the crew film a short interview with a community member. Little did I know that it would be the highlight of my week. As she spoke and answered the questions, she continuously recalled the positive impacts the garden has had on Snaw-Naw-As people. It seemed as though it's become so much more than just a garden with some vegetables. With the health centre proudly behind it, it has become a place for friends and families to gather, for people to learn, and for relationships to be built. It reminded me that we aren't just building a shaded sitting area or a room to smoke fish; we're building a place to gather around and a classroom to learn in. To put it simply, the garden isn't just cabbage and carrots; it's a community. 
Thank you to the Snaw-naw-as Nation for being so inviting, to my co-workers for getting their hands dirty (and putting up with my lame jokes), and Ryan and Graham for keeping the site together.