MABRRI's research and community engagement coordinators, project coordinators, VIU students, and faculty associates work with community partners to create and conduct research projects that advance our understanding of people and nature--and the interaction between these--within the Mount Arrowsmith Biosphere Region. Listed below are some of the projects that MABRRI is currently working on within the biosphere region. For other projects we are working on across Vancouver Island, check out the Other VIU Research Projects page.
Projects in the Mount Arrowsmith Biosphere Region
The View from 2117: Human Actions, Consequences, and Perspectives on Mountain Regions
VIU has joined the University of Alberta and a handful of other universities across Canada as part of the Canadian Mountain Network (CMN). Established in 2016, the CMN aims to engage in collaborative, interdisciplinary research to address issues and relationships between mountain environments, economies, and society. Since it was established, approximately 40 reports, all focusing on various topics, have been published and made publically available. In 2019, the CMN was funded by the Networks of Centres of Excellence to continue research within mountain regions.
As part of the CMN, VIU's and MABRRI's research project titled The View from 2117: Human Actions, Consequences, and Perspectives on Mountain Regions will examine the ways in which individuals and collective behaviour, population growth, regulatory regimes, and societal change have affected and will affect First Nations, mountain communities, and mountain environments over the next century. The project will focus on the MABR, examining the human nature connection associated with the region. The methodology for this project will be multi-modal and will include demographic analyses, indicator development, field research, surveys, focus groups, and psychological assessments. Lead researchers for this project include: Pam Shaw (MABRRI and Geography), Geraldine Manson (Elder in Residence), Sylvie Lafreniere (Sociology), Lindsay McCunn (Psychology), Maureen Reed (UNESCO), Lindsay Chase (University of Victoria), and Maria Ines Paez Ferriera (Instituto Federal de Educação, Ciência e Tecnologia Fluminense, Brazil). Project partners include representatives from Qualicum, K'omoks, and Snaw-naw-as First Nations, industry partners, and local government representatives. With an interdisciplinary team and partners leading the research, the project will ideally result in lessened human/nature impacts and improved policy and regulatory frameworks in the MABR.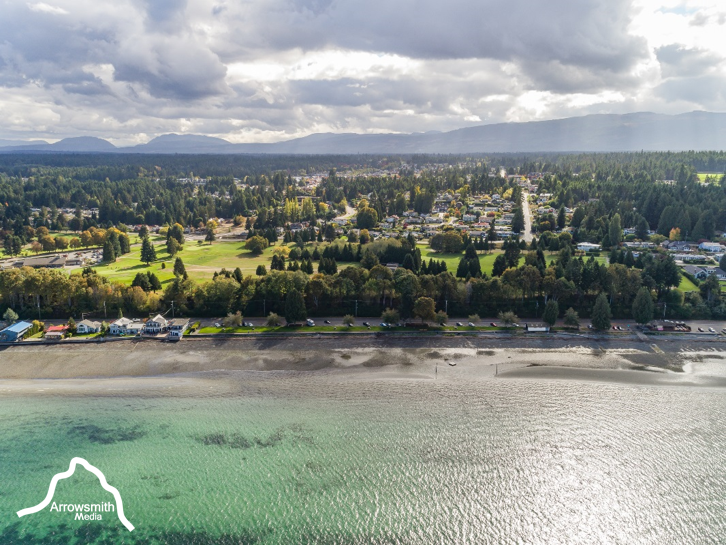 Forage Fish Spawning Habitat Monitoring
The project began in October 2017 when Phillip Dionne, a Nearshore and Forage Fish Scientist from the Washington Department of Fish and Wildlife came to Nanaimo to train MABRRI employees how to sample for forage fish embryos, specifically Pacific sand lance and surf smelt. Phillip taught the MABRRI team the newest forage fish sampling methodology, referred to as the "vortex method". This method is more efficient, more effective, and more community-friendly than previously used sampling methods that have been used in the past. Following the training session will Phillip, MABRRI worked with Pam Thuringer, retired marine biologist and WWF Canada volunteer, to modify the sampling protocol to suit our study. Only minor adjustments were made and they were done so to allow us to focus our efforts on where and when the forage fish are spawning rather than determining their densities.
Beginning in January 2018, two students from the Advanced Diploma in GIS Applications were hired to assist with the development of predicative mapping for forage fish spawning habitat. Over 30 maps were generated, depicting the areas of coastline that were identified as suitable forage fish habitat using the model developed by Coastal and Ocean Resources Incorporated. The maps covered the area that spanned from approximately Bowser south to Sooke, the Canadian Gulf Islands, and a small portion of the mainland, including Burrard Inlet. These maps, alongside MABRRI's on-the-ground approach, are used to identify potential forage fish spawning habitat up and down the coast.
In mid-2018, MABRRI began training local community stewardship groups. Each group is provided with the equipment and training needed to conduct sampling for forage fish embryos in their region. Although sampling first began in the Mount Arrowsmith Biosphere Region, MABRRI's efforts to identify suitable forage fish spawning habitat has expanded, including sites as far south as Cowichan Bay and north to Bowser, as well as on Gabriola and Thetis Islands. It is anticipated that with further funding and project growth the boundaries will continue to expand north, as well as include more Gulf Islands. In each of these regions that the project expands to, MABRRI is hopeful that community stewardship groups are keen to take on some of the sampling. By including community stewardship groups, we are able to sample a greater amount of the coastline in any given sampling window then would be possible with just the MABRRI team.
If you or your stewardship group are interested in contributing to this continuously growing project, please contact Haley Tomlin, MABRRI's Assistant Research & Community Engagement Coordinator, at Haley.Tomlin@viu.ca for more details.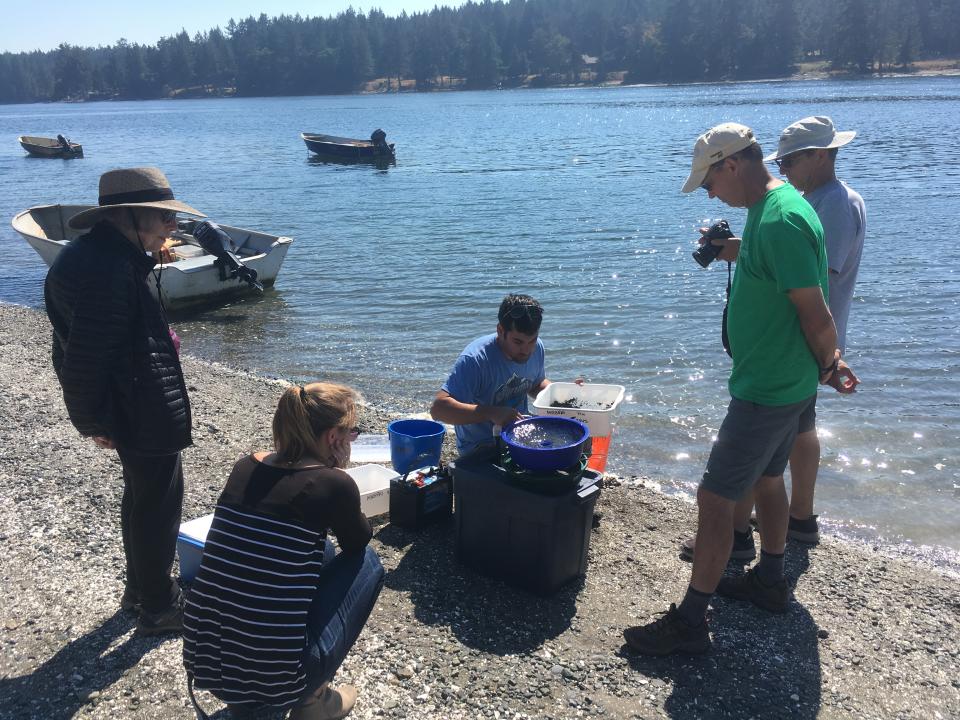 The MABR Amazing Places
The Amazing Places project is based on a mapping project launched by the Fundy Biosphere Reserve in New Brunswick. It began with the desire to guide visitors beyond the national park boundaries, and especially promote hiking on the Fundy Footpath. Subsequently, three biosphere reserves in Ontario have launched an Amazing Places pilot project, which will highlight the biosphere regions' unique environmental and cultural significance.
The project was brought to British Columbia in 2016 through a collaboration between the Mount Arrowsmith Biosphere Region (MABR) and Parksville Qualicum Beach Tourism. A community nomination process took place in September 2016 to select 10 Amazing Places in the MABR. Following the do no harm model, Amazing Places are chosen in locations that can handle increased visitation without compromising what makes the place Amazing.
The 10 Amazing Places within the MABR include: Top Bridge, Heritage Forest, Cathedral Grove, Parksville Community Park, Little Qualicum Falls Provincial Park, Milner Gardens & Woodland, Englishman River Falls Provincial Park, Cameron Lake, Notch Hill, and Rathtrevor Beach Provincial Park. These Amazing Places have received interpretive signage, online promotion, and high quality photo and video coverage. Our region will also be promoted across Canada through the national UNESCO biosphere reserve network.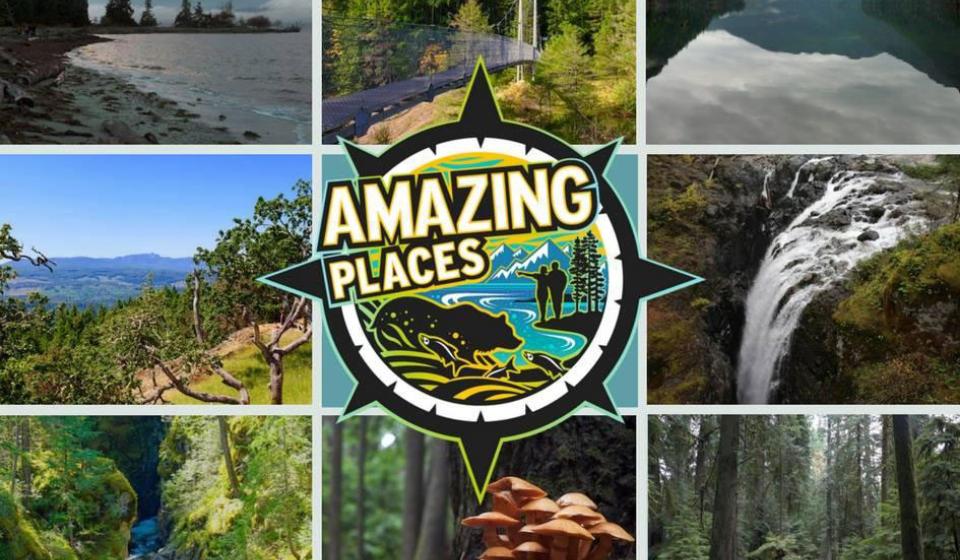 Wetland Mapping in the Regional District of Nanaimo
The Wetland Mapping and Monitoring project is a five-year research agreement that was created through a collaborative partnership with the Regional District of Nanaimo's (RDN) Drinking Water and Watershed protection (DWWP) program and Vancouver Island University (VIU). The project started in 2015 and was developed from recognition that there continues to be a lack of baseline data on wetlands in the region. Furthermore, there is limited data regarding where wetlands are situated, how they are classified, and what connection they have to groundwater recharge. This information is important for informing land use decisions in the region. Overall, research aims to inform policy and planning around wetlands in the region in order to better protect these important hydrologic features and ecosystems.
In April 2020, the MABRRI team began year 5 of the wetland mapping project. Many of this years objectives are based on the pilot project that was initiated in 2019, having installed instrumentation to determine if a wetland had a direct connection to groundwater. There are 7 main objectives for this year, including: [1] continued seasonal monitoring of the 6 priority sites established in 2019; [2] primary data analysis of data from installed instrumentation; [3] modify the instrumentation as necessary to maximize efficiency of the installed instrumentation; [4] install instrumentation at two more wetlands (pending funding); [5] update priority wetland reporting with findings; [6] complete a 5-year summary report; and [7] update ArcGIS online with all data that has been collected through this 5-year initiative. 
The MABRRI team regularly updates the RDN Get Involved page for wetlands. Therefore, if you'd like to see what the team is up to, visit: https://www.getinvolved.rdn.ca/rdn-wetland-mapping.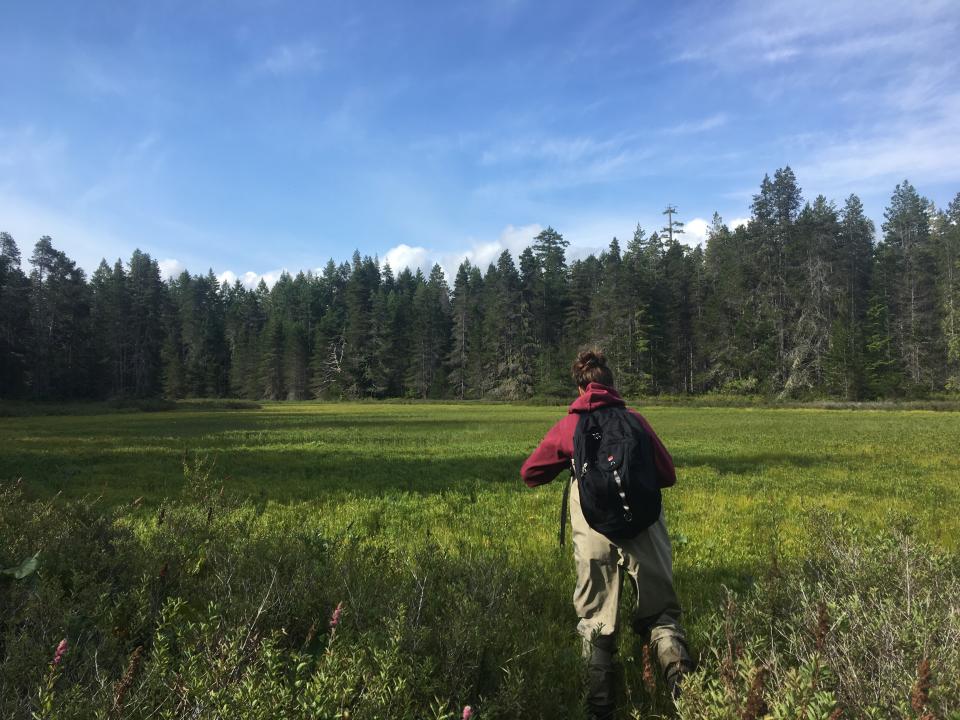 MABR BioBlitz
Every April, the MABR hosts an annual BioBlitz event in conjunction with the Brant Wildlife Festival. A BioBlitz is a rapid biological survey of flora and fauna that embraces citizen science, connecting local community members, students, faculty, knowledge holders, naturalists, and scientists to identify as many species as possible within the allocated time frame. Conducting a BioBlitz provides a snapshot of the biodiversity and species richness within the region. Further, BioBlitzes increase our knowledge of changes to species abundance, habitat for Species at Risk, as well as changes in invasive species distribution over time in our region. The data collected during the annual event helps inform the management of sensitive habitats and ecosystems within the region.
Due to the ongoing pandemic, the MABR has restructured this event to allow for social distancing and a broader view of the biodiversity in our region. This event will utilize the iNaturalist app, and will be the MABR's first ever Biosphere-wide Blitz! The Biosphere Blitz will span across three days from April 16th through 18th, 2021. The event is free and open to everyone at all ages and levels of knowledge. The Biosphere Blitz will take place within the boundaries of the MABR, which ranges from Nanoose Bay to Qualicum Bay.
If you have any questions about the event, please contact Mandy Hobkirk, MABR Coordinator, at Mandy.Hobkirk@viu.ca. It is expected that participants will follow provincial regulations and maintain social distancing while taking part in this event.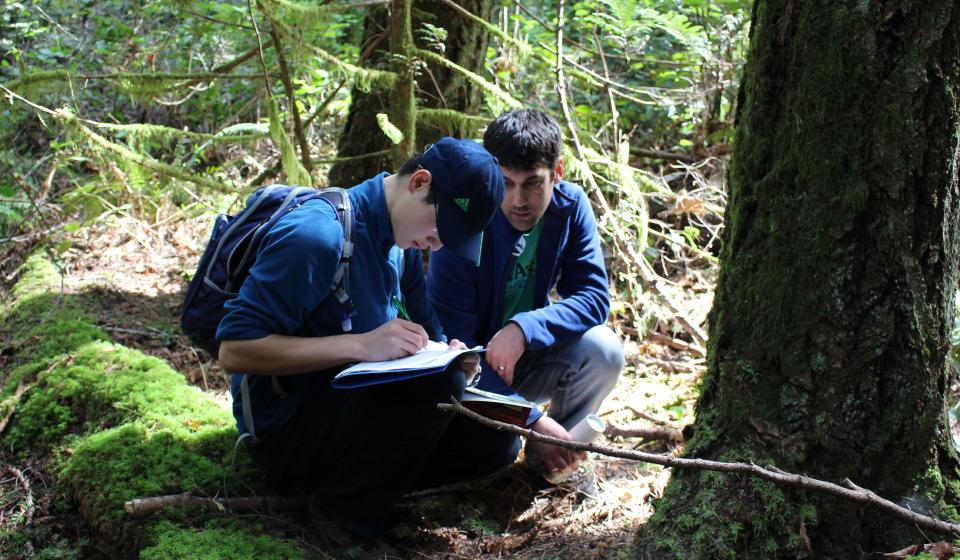 Snaw-naw-as First Nation Garden Café
In the summer of 2019, MABRRI, in partnership with Snaw-naw-as Nation and Island Health, created the Garden Café. Featuring six weeks of culinary teachings, the Garden Café ran from August to October at the Snaw-naw-as Heath Centre. Each week, the leading instructor offered several simple ways to prepare vegetables. For example, the first week the instructor focused on zucchini and provided recipes and cooking instructions on how to prepare zucchini Provençal, zucchini sage and brown butter, and zucchini and herbs.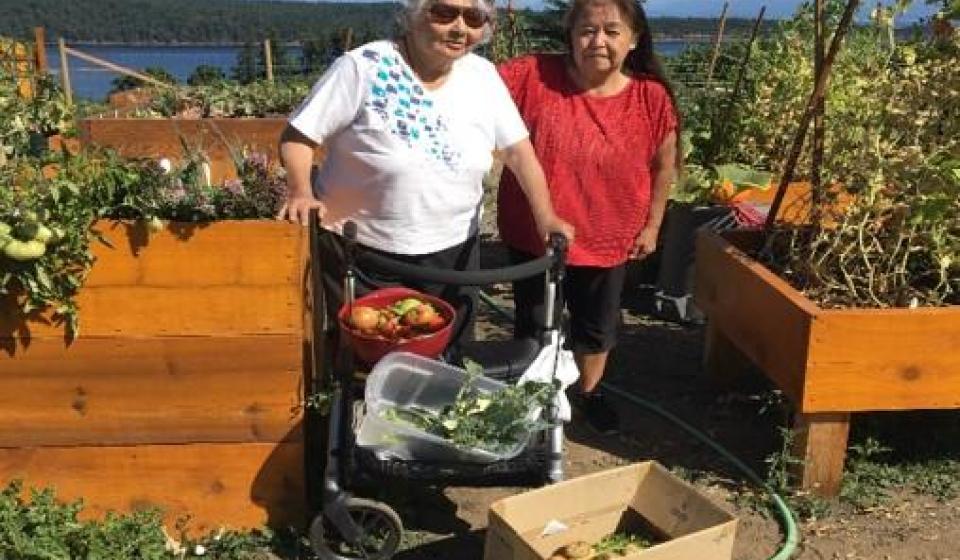 Global Observational Research Initiative in Alpine Environments (GLORIA)
In the summer of 2016 MABRRI partnered with Kristina Swerhun, to continue long-term alpine monitoring on four summits of Mount Arrowsmith. The aim of the project is to develop long-term, world-wide databased of standardized observations of alpine biodiversity, vegetation patterns and mountain-top temperatures.  Monitoring and data collection takes place every five years to assess any visible changes. Information aims to capture the effects of climate change on these unique alpine ecosystems.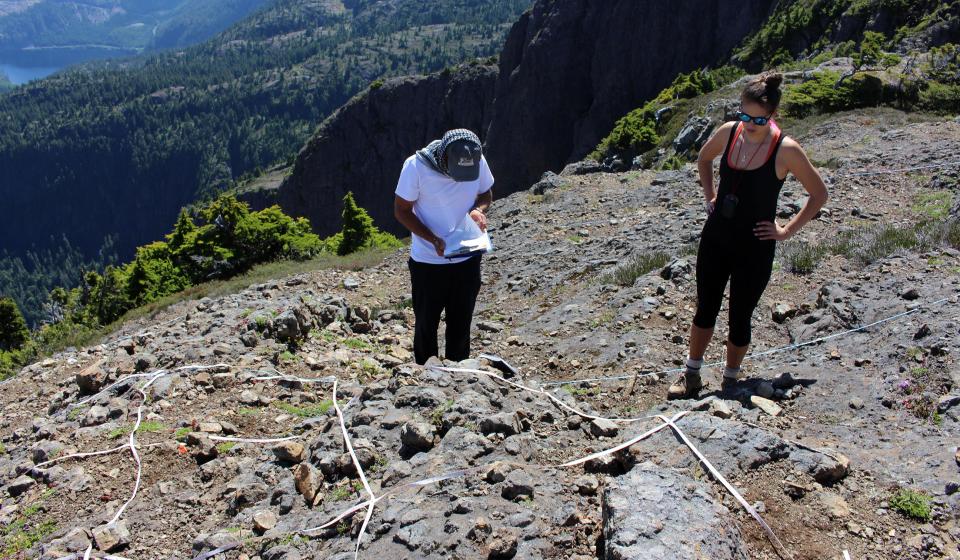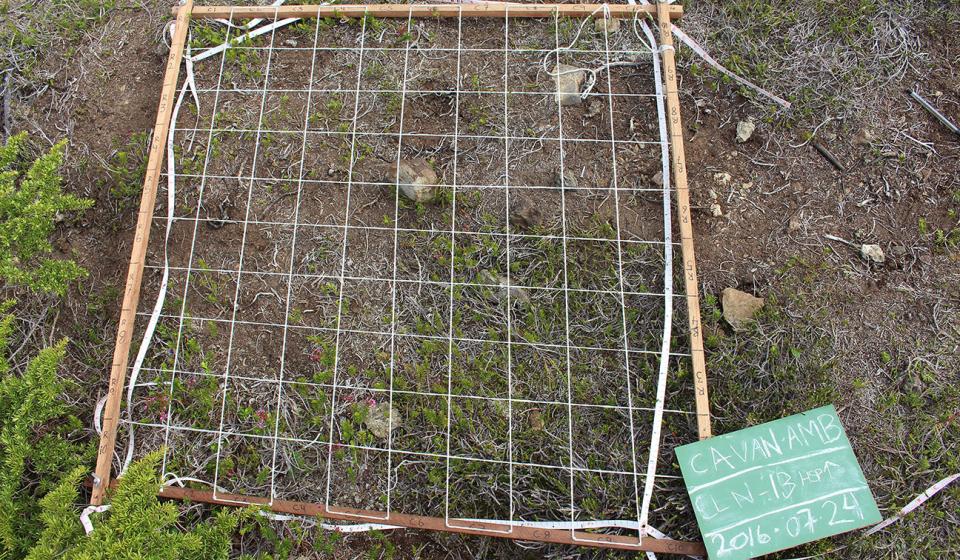 Promoting the SDGs in the MABR
This project aims to increase awareness of the United Nations' Sustainable Development Goals (SDGs) in the Mount Arrowsmith Biosphere Region (MABR). Introduced globally in 2015 by the United Nations, the SDGs are comprised of 17 goals which call all world nations to action in order to achieve a more sustainable future for all. The SDGs address social, economic, and cultural prosperity while simultaneously caring for and protecting the earth. Successfully achieving the SDGs requires increasing awareness of them and promoting local and global change.  
MABRRI received funding through Colleges and Institutes Canada's (CICan) Career-Launcher Internship program to hire an SDG Ambassador. The SDG Ambassador will lead the project and engage the MABR community in the SDGs through social media campaigns, virtual presentations and workshops, and by discussions with local businesses and organizations. The final deliverable will include a series of short videos that further increase awareness of the SDGs in the MABR. Once we collect information on how organizations within the region are contributing to the 17 goals, we will share best practices with the network of UNESCO biosphere reserves across Canada.  
If you live in the MABR and are interested in participating in the discussion about how you or your group contributes to the SDGs, please contact Mandy Hobkirk, MABR Coordinator, at Mandy.Hobkirk@viu.ca 
Ecological Accounting Process
In partnership with the Partnership for Water Sustainability in British Columbia (PWSBC), the Ecological Accounting Process (EAP) project took place in the Kilmer Creek Watershed in North Vancouver and the Shelly Creek Watershed in Parksville. Completed at the end of 2019, this project used EAP methodology to examine how the natural commons, such as riparian areas surrounding streams, impact property values through the proximity to streams and the ecosystem services they provide. Additionally, the EAP analyzes the value of the land underlying the natural commons, areas where the riparian setback area and stream channel fall, as well as the investment of maintenance and management that is put into the stream by property owners, the local government, and stewardship groups. Resulting from this project are two reports detailing the EAP results providing research to inform decisions regarding ecological assets, as well as evidence to support management of the natural commons from a financial perspective.
The MABR Youth Program
The MABR Youth Program incorporates hands-on activities and outdoor field trips to provide experiential learning opportunities. There are three main workshops that instructors can choose from for elementary school grades and one workshop for high school grades. The program is available to any school or organization within the MABR cost-free. However, each class will be responsible for their own transportation, when applicable. The workshop durations are approximations. 
The elementary grade programs include:
Coastal Workshop: This workshop will explore the connection between humans and aquatic ecosystems. The workshop includes a presentation, classroom activities, and a beach seine at a local beach. (Approx. 4 – 5 hours)
Terrestrial Workshop: This workshop will explore local biodiversity, ecosystem services, and environmental sustainability. The workshop includes a classroom presentation, classroom activities, and a field trip to a forested area where students will participate in a plant scavenger hunt. (Approx. 4 – 5 hours)
Sustainable Development Workshop*: In the fall of 2019, MABRRI will be offering a sustainable development workshop. The workshop will include a presentation and interactive city building activity. *This workshop is still being developed. (Approx. 2 – 3 hours)
The high school program is focused on the Sustainable Development Goals. The workshop includes a classroom presentation and an interactive city building activity. (Approx. 1.5 hours)
For more information, please visit the MABR webpage.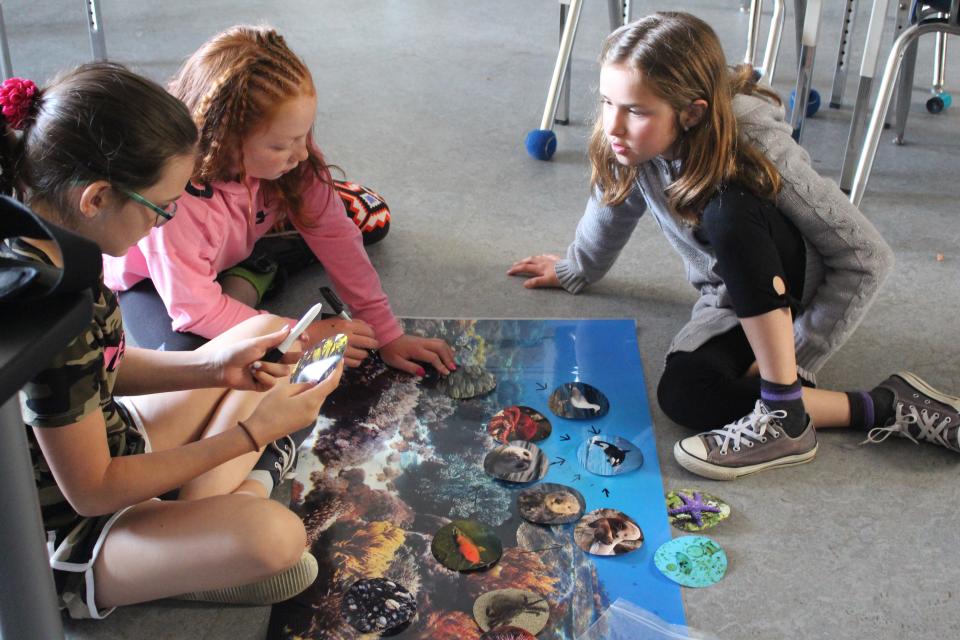 Coastal Forest Plant Phenology Research and Monitoring Pilot
In partnership with the Ministry of Forests, Lands, Natural Resource Operations and Rural Development and Milner Gardens & Woodland, MABRRI is working to assess and monitor climate change effects on local plant phenology – the timing of seasonally reoccurring events such as bud break, leaf size, flower development, and ripe fruit. By monitoring the growing seasons of different coastal plants, and by comparing these growing seasons to microclimate data, we can work to identify any potential changing trends in the growing seasons of Vancouver Island's ecosystems.
Since 2017, we have been monitoring phenological changes in native plant species at Milner Gardens & Woodland, Thetis Lake Regional Park, and on Mount Arrowsmith. Microclimate stations and a series of trail cameras have been installed at all sites to link phenological records to local climate. MABRRI, student researchers, and citizen scientists also collect in-person data weekly during the summer and biweekly during the spring and fall at Milner Gardens & Woodland. Data collection will continue for a number of years in order to see how growing seasons may be shifting with changing climate patterns.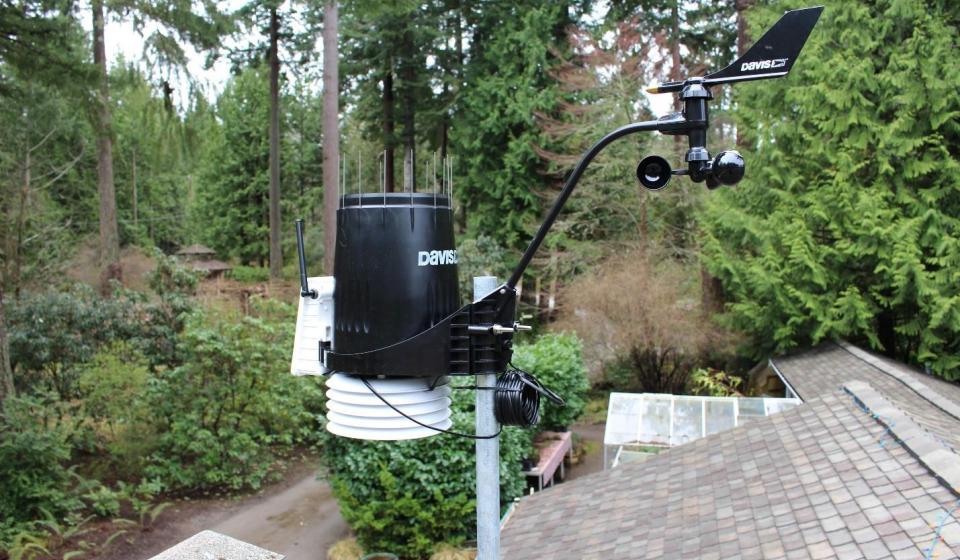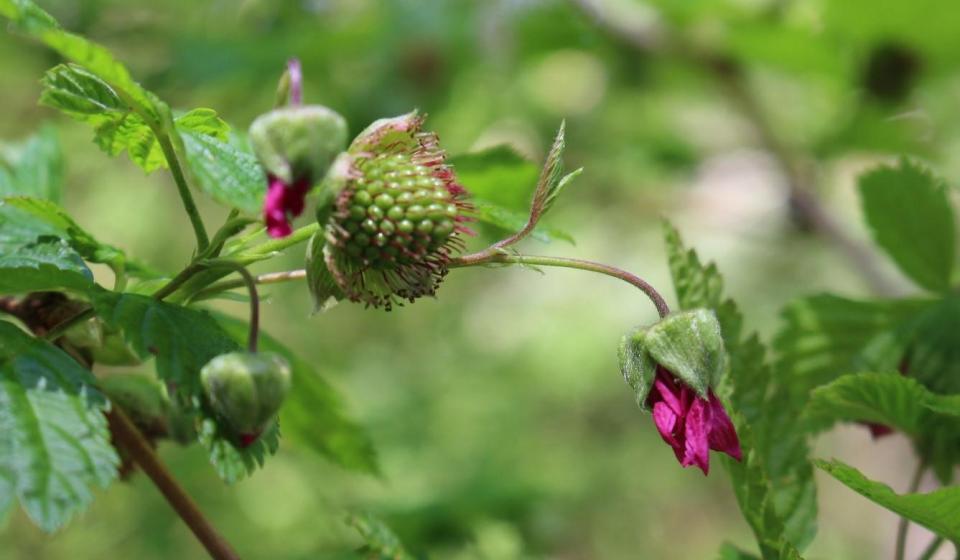 Snaw-Naw-As Garden of Spiritual Healing
Snaw-naw-as First Nations completed the construction of the Community Health Centre in 2013. The plans to site a Garden of Spiritual Healing adjacent to the Health Centre have been in progress for many years, but have only recently moved forward. As is often the case, shortages in funding, human resources, and project management time to devote to the garden have limited the capacity for carrying out this initiative. However, through new collaborations with the MABRRI and community support, plans to establish the garden have re-emerged and progressed quickly. A garden committee consisting of Snaw-naw-as First Nation community members and Elders has helped guide the development of the garden. Ultimately, the goal of the garden is that it will provide four complementary uses: community education, health and wellness, food security, and a community gathering space.
MABRRI broke ground and began construction of the Snaw-naw-as Garden of Spiritual Healing at the beginning of May 2017. By mid-May there were Snaw-Naw-As Elders in the garden planting vegetables in the garden boxes that had been finished and put in place. Each year, MABRRI continues to work with Snaw-naw-as to construct more aspects of the site. To date, MABRRI has made significant progress having built 14 garden boxes, a greenhouse, a toolshed, a pathway, a fence to enclose everything in an attempt to stop deer from getting to the vegetable garden, and a community smokehouse.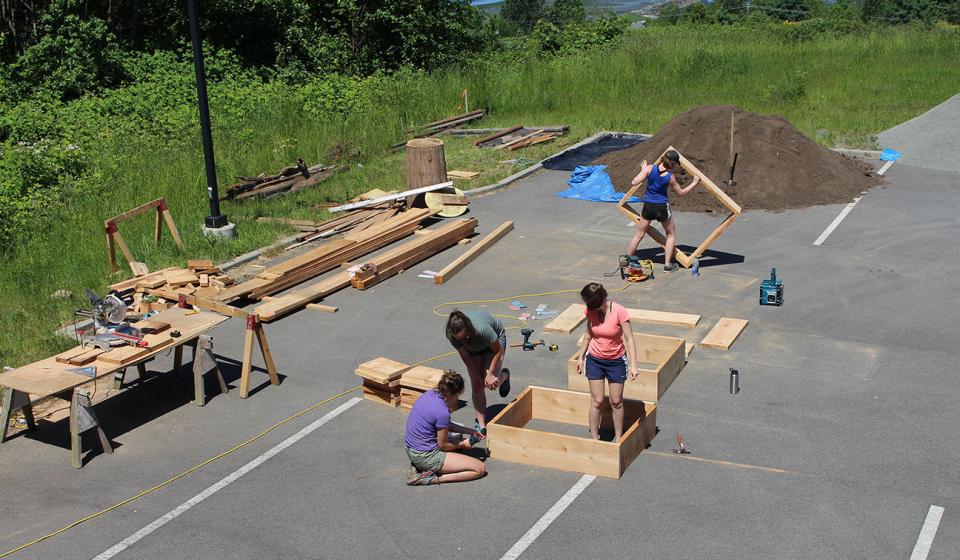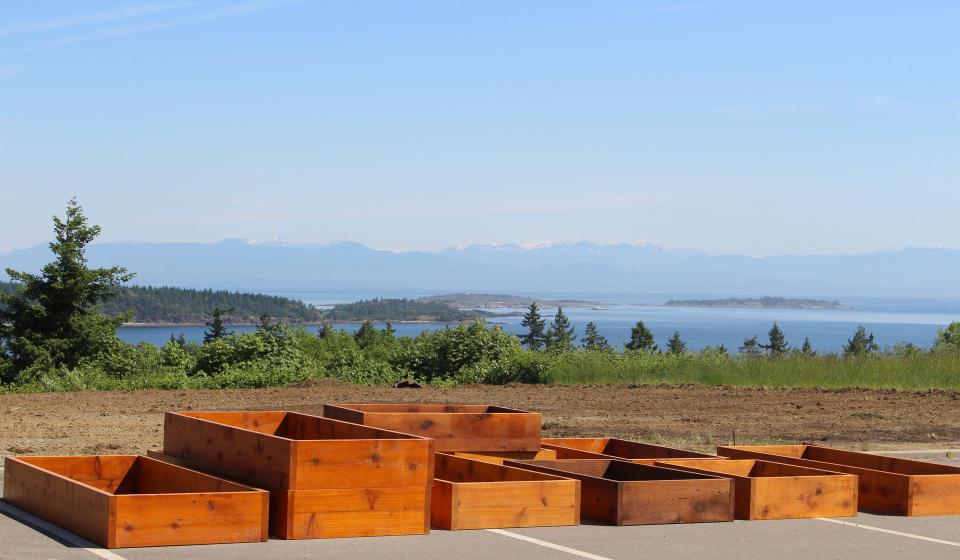 MABR Environmental Monitoring App
Development of the Mount Arrowsmith Biosphere Region Environmental Monitoring App began in 2016 upon receiving funding from the North American Partnership for Environmental Community Action. This project takes a community-based, participatory approach to creating new online mapping for the Mount Arrowsmith Biosphere Region. The app has involved VIU students and faculty, as well as community members to give feedback and input in order to determine the types of fields the community would like to see and how information will be disseminated.
With their handheld devices, users can upload information and images regarding environmental and social features or issues that they come across while exploring the MABR. Whether it is something of interest (e.g. an indigenous plant of cultural significance or a species at risk) or a potential issue (e.g. an impassive fish barrier or illegal dumping), users can help collect invaluable environmental data in the area. Using GPS technology, information is uploaded to the map-based app so that residents and tourists can find out about interesting features or environmental concerns located near them.
The information gathered will be used by the local community to identify issues or features that are worthy of inclusion on the community map as well as reveal incident patters that will allow for facilitated community discussions to help resolve these community-identified issues.
Download the MABR Environmental Monitoring App on any smart phone to become a citizen scientist in your own backyard. Just search "MABR" in your app store to download today.

To learn more, visit the MABR website here.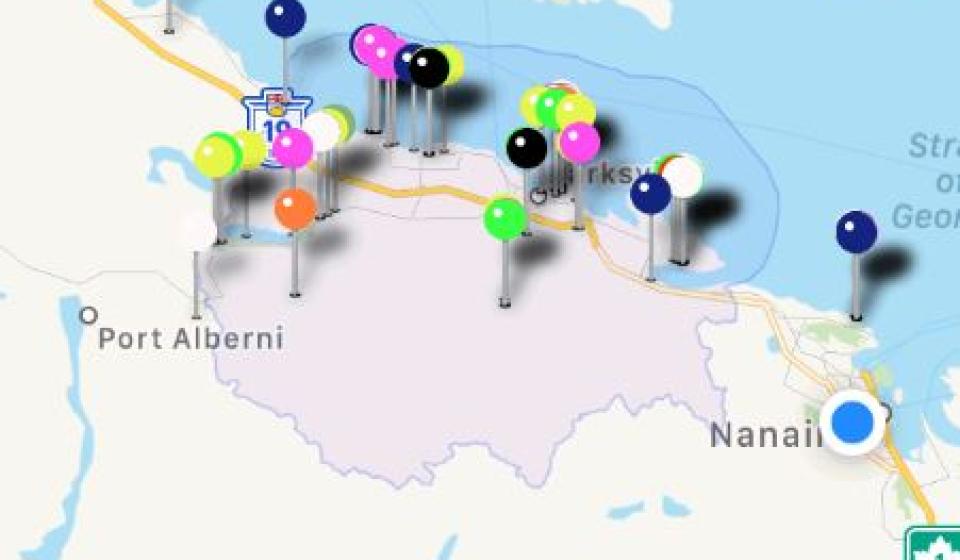 Ecological Research as Education Network (EREN) Permanent Forest Plot Project (PFPP)
The Ecological Research as Education Network (EREN) developed the Permanent Forest Plot Project (PFPP), which involves universities throughout North America; students and faculty from different institutions are given a strict protocol to follow when they are establishing their forest plots. The goal of the PFPP is to establish permanent forest plots in a range of different ecosystems, which will allow students and faculty to observe and compare different aspects, such as biomass, carbon sequestering abilities, species diversity and presence or absence of invasive species, in varying ecosystems.
In 1999, Dr. Glen Jamieson and the Mount Arrowsmith Biosphere Foundation (MABF) established a 100m x 100m forest plot at Englishman River Falls Provincial Park. The MABF collected the location, size and type of each tree in the plot but never returned to continue monitoring the sites after their establishment. In 2016, MABRRI established two interior, 20m x 20m forest plots, using the EREN protocol, within the MABF plot and two edge plots outside the MABF plot. In addition to the sites at Englishman River Falls Provincial Park, the MABRRI student researchers established two new plots at Milner Gardens & Woodland in February 2017; there was one interior and one edge plot established. The MABRRI team will continue to monitor each of these sites every five years, documenting the species, size, location and status (alive or dead) of each of the trees within each plot. All collected data is uploaded on the EREN database; therefore, along with Vancouver Island University, other institution's faculty and students can use our data to calculate different parameters, including biomass, carbon sequestering abilities, and species richness and make comparisons between the Mount Arrowsmith Biosphere Region (MABR) and the region they live in. The MABRRI student researchers will be able to recognize how these regions of the MABR are changing and how they may be effected differently by climate change.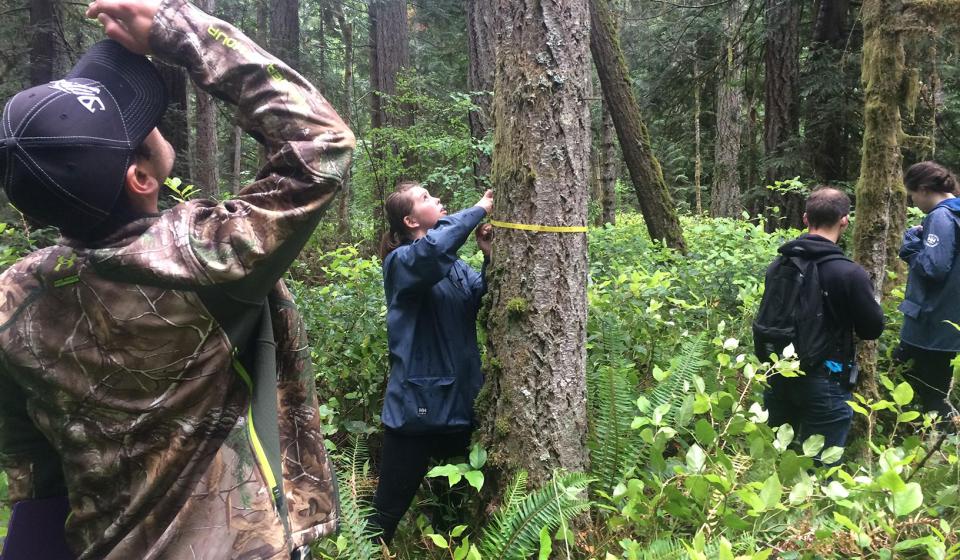 International Journal of UNESCO Biosphere Reserves
The publication of scientific research in journals is the primary means of disseminating scholarly ideas, concepts, theories, and findings.  For researchers interested in the 701 Biosphere Reserves [3] currently designated by the Man and the Biosphere (MAB) Programme of the United Nations Educational, Scientific and Cultural Organisation (UNESCO), an in-depth review initiated by Prof. Martin Price in 2013 and continued by Dr. Pamela Shaw in 2015 (to be published in a future issue of the Journal) revealed that a wealth of information across a wide range of disciplines was being published.  However, given differences in terminology and the great diversity of publications involved, the materials developed were not always available to individuals involved in the World Network of Biosphere Reserves (WNBR). In addition, obtaining articles at no cost was not a simple matter for biosphere reserve staff and volunteers who were not affiliated with academic institutions.  Beyond this, a mechanism for bringing together information on the range of community-based and applied, practical activities currently undertaken within many biosphere reserves was simply not available.
A solution proposed was the development of a new journal for biosphere reserves.  While there are certainly other reputable scientific journals that accept submissions on this topic, this new journal would address a host of issues that present barriers to sharing and disseminating research across the WNBR and all those interested in what takes place within biosphere reserves.
This new journal is fully interdisciplinary: instead of focusing on a selected scientific research sub-area, it is a resource for sharing information across disciplines and into practice, promoting the cross-pollinization of ideas and creating new research connections.  It can therefore be regarded as a contribution to the implementation of the Lima Action Plan for the MAB Programme and its WNBR (2016-2025).  This calls not only for applied research in biosphere reserves, but also for an active and open interdisciplinary network of scientists and knowledge holders working in and with biosphere reserves, with a joint research and knowledge exchange agenda.  We hope that this journal will become a key mechanism for this emerging network.
The journal is, in perpetuity, a digital, Open Access, subscription-free publication. This makes for more cost-effective publication, reduces the ecological footprint of the journal, and allows for full-colour/full-spectrum production across range of digital formats.  This new format is part of a wave of new journals that are abandoning the confines of paper publications and embracing a digital future that includes video, audio, full-colour mapping, and interactive formats that are not limited by the challenges of publication costs and hard copy dissemination. This format also allows for a much shorter delay between submission and publication.