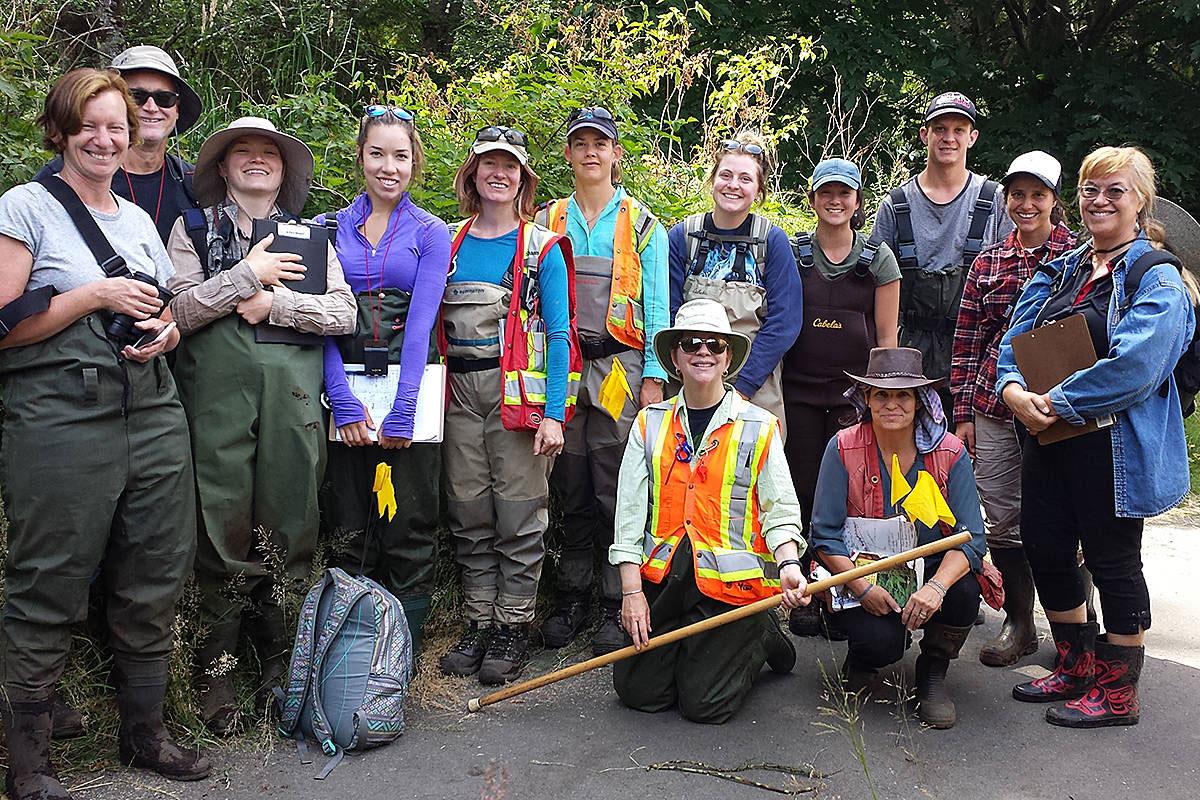 The BC Wildlife Federation partnered with Greenways Land Trust in Campbell River, BC to host a Wetlands Keeper course free of charge and open to the public. Wetlands are important ecosystems that are disappearing in BC and urgently needs community protection. In 2016, MABRRI started a wetland mapping project in partnership with the Regional District of Nanaimo (RDN) and Vancouver Island University (VIU). This project is helping build an inventory of where wetlands are, and promotes research regarding connectivity between wetlands and other water systems. On July 14th, MABRRI research assistants Curtis Rispin, Lauren Shaw and myself, attended the 2.5 day workshop taught by Michele Jones from Mimulus Biological Consultants. The workshop consisted of both field work and in class presentations that taught the class a variety of stewardship skills including how to identify and map wetlands, bird and plant species, and soil sampling.
The MABRRI team arrived friday evening and joined the rest of the class for the introduction to wetlands and classification presentation. Michele provided a fantastic overview of the initial wetland assessment and baseline survey that the class would eventually practice in the field. Michele taught everyone how to use surveying field instruments (e.g compass) and brought in books and plants into the classroom to help identify vegetative and bird species.
In the afternoon of Saturday and Sunday, the class split into groups of 3 or 4 to conduct their own baseline survey in a real wetland in Campbell River. Wetlands are an incredibly fun place to do research! The class marched through the wetlands in waders and gum boots through shrubs higher than 6 feet and into water hip deep. The course was completed on Sunday and the MABRRI team received their Wetlandkeeper certificate! This was an excellent course that gives participants the opportunity to connect with community groups who are actively protecting this ecosystem. I am so happy to have the chance partake in the workshop and am looking forward to using the stewardship skills we learned with Michele in the MABRRI project.