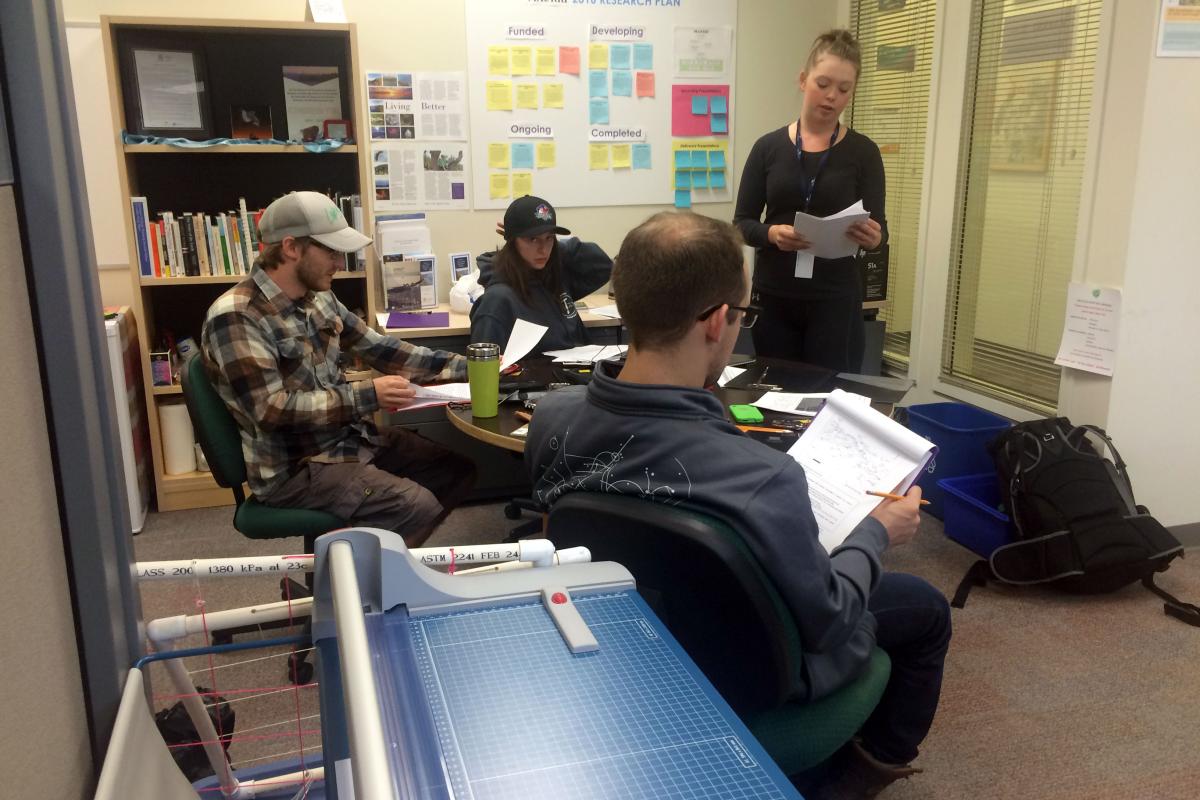 Today the MABRRI research team loaded all of their gear in the VIU truck and headed north to Parksville B.C, in search of the Ermineskin wetland nature park. Ermineskin wetland is the first wetland that we have decided to recce in preparation for our wetland mapping project, which is a project initiated by MABRRI in collaboration with the Regional District of Nanaimo's (RDN) Drinking Water and Watershed Protection Program (DWWP). The focus of the wetland mapping project is to gain a better understanding of how wetlands interact with groundwater and relate to recharge/discharge of deep water aquifers, which are vital for the health of the many unique ecosystems in the region and supply drinking water to the residents of the RDN.
Once the team made it to Ermineskin wetland, we geared up and headed down the well-groomed walking trail in search of the wetland. Along the trail we noticed many beautiful plant and tree species such as, bigleaf maple, Nootka Rose bushes and Stinging Nettle. We also encountered numerous people out walking their dogs down the winding trails. One fellow in particular, made mention of how much the area gets inundated with water during the fall rainy season. However, we noted that there was very little standing water, due to the lack of precipitation and hot dry days we have been encountering this spring.
After our team had meandered through this beautiful park, we decided to head south, down to Rathtrevor Beach, which was the location of our next wetland. Once we reached our destination the team geared up again and headed down the trail which was lined with large Douglas-Fir roots that the massive old growth trees have anchored themselves to the earth's crust with. Upon arrival at the wetland we conducted a couple practice transects, using compasses to find our fore bearing and back bearing, a surveyor chain for measuring distance, and a half meter by half meter quadrat used to distinguish how many organic species are in a given sample area. These techniques allow us to map the wetland and classify the various stages of vegetation present.
Tips
Stinging Nettles can be harvested and boiled to make a very nutritious detoxifying tea for consumption. Consult your local regulations and wild edible handbook before harvesting any plants.

Ermineskin Regional Nature Park has a great network of trails that can be accessed by anyone and their pets.

Wetland are very sensitive ecosystems, so it's a good idea to stick to the main trails to minimize impacts to the natural vegetation.