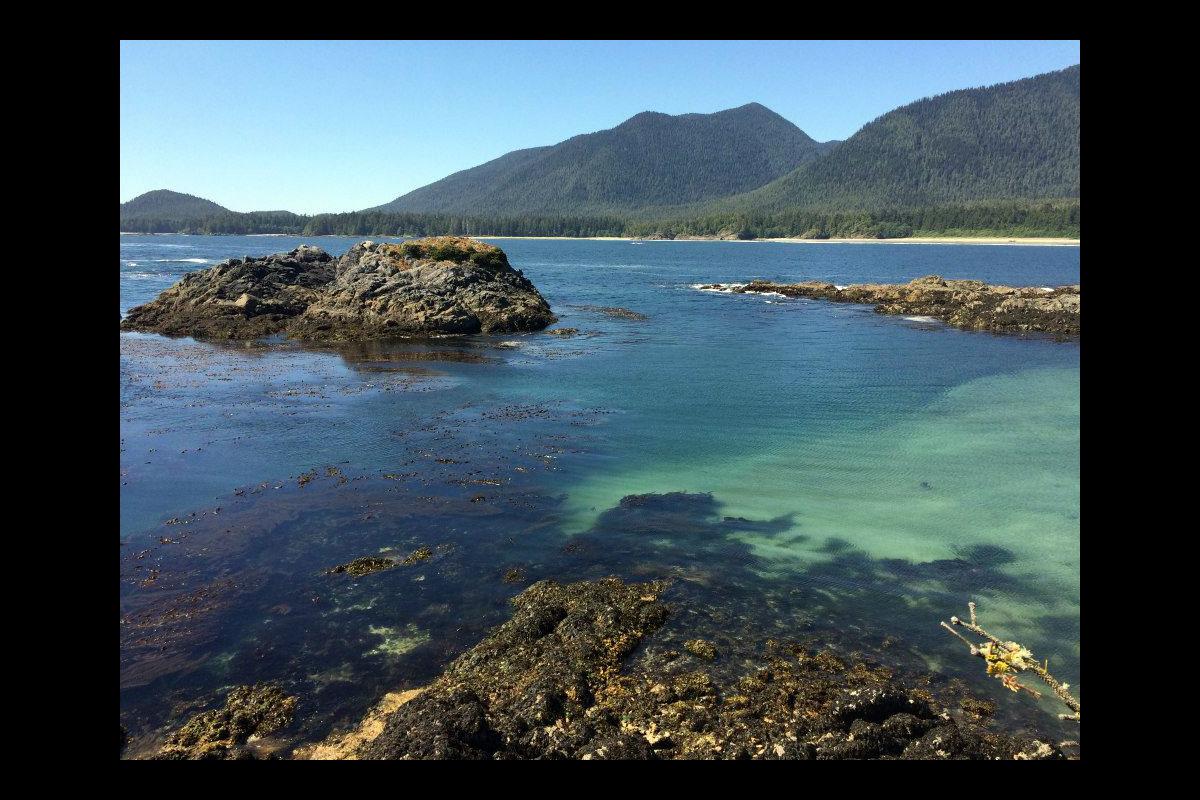 On the weekend, Taylor (a recent graduate from VIU Geography) and I backpacked the Wild Side trail in the Clayoquot Sound Biosphere Reserve. We wanted to share some of the amazing places we got to see on the west coast and to encourage others to check out our friendly neighbouring biosphere!
Our trip started early Friday morning with a drive to Tofino. From there we got a ride on a charter boat to Ahousaht on Flores Island, where the trail begins. We checked in at the office and then were on our way to Cow Bay beach. It was an absolutely stunning 12km trek across windswept sandy beaches and through rich old growth forest. The trail was well maintained and didn't have any large changes in elevation. With our 40 lbs packs, the trip in took us about 4 hours. We camped in the trees that night and spent the next day exploring the bay.
There we saw whales feeding close to shore, two bald eagles picking at an old carcass on the beach, and lots of wolf footprints in the sand. We went wading in the ocean (which was a bit brisk, however tropical it looked), and scrambled up some of the rocky islands to get a better view of the area. It was a beautiful day. Too soon, it was time to go home. We ended up further inland on the way back because of the tides. The extra section was well worth it though, as it went through some of the oldest trees I have ever seen. We were completely exhausted when we made it back, but that was outweighed by the sense of accomplishment we felt having made the journey all on our own feet! I would highly recommend the trail to anyone looking to explore this amazing part of the Clayoquot Biosphere Reserve!
Adventure tips:
Give yourself some extra time to get to Tofino, as there is currently construction going on that delayed us a bit.

Stop and take pictures! The walk in itself was just as beautiful as the destination.

Be sure to check the tides before you plan your route, as there are some parts of the trail that you can take low tide short cuts.

This is a relatively easy trail and well marked. It was Taylor's first backpacking trip, and made for a great introductory experience.