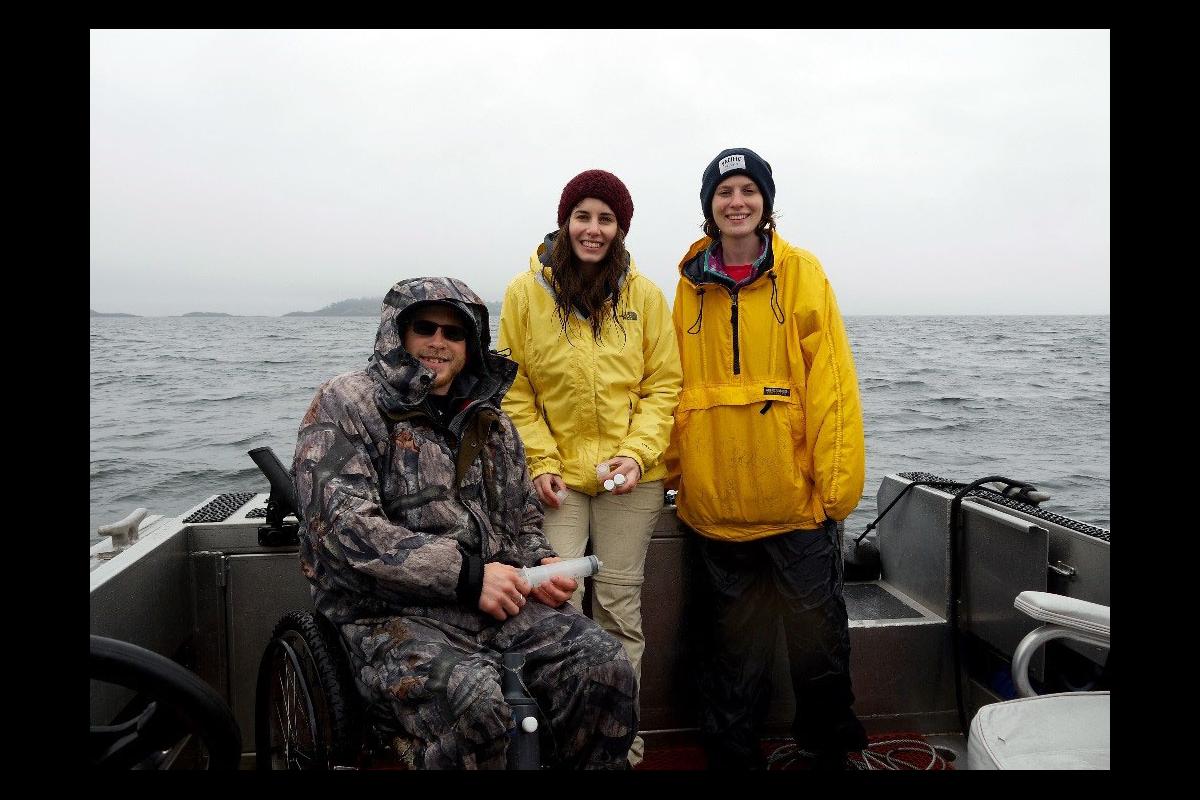 On Wednesday May 3, MABRRI research assistants Ryan Fredrickson, Kidston Short, and Larissa Thelin spent the day on the Salish Sea with Captain Tom Fredrickson to do water sampling for the Salish Sea Marine Survival Project. Coordinated by Canadian-based Pacific Salmon Foundation and American-based Long Live the Kings, the project aims to determine the primary factors affecting the survival of juvenile salmon and steelhead in the Salish Sea. The researchers at MABRRI, along with 60 other organizations in British Columbia and Washington State, help collect important data that will allow us to better understand salmon in saltwater as well as better manage our salmon species in the future.
We initially aimed to set out at 6:30 am but the winds were too strong so we had to delay. Finally, at 8:30 am, with the Silver Bullet equipped with our Niskin bottle and multi-parameter sonde, we set out on our 65 mile trip. We left from Schooner Cove in Nanoose Bay and travelled around Lasqueti Island and back, stopping at 7 sites throughout to take our samples. With the Niskin bottle we sampled nutrients and phytoplankton at multiple depths; with the digital multi-parameter sonde, we sampled a variety of water attributes such as water temperature, salinity, and pH. This information will help the Salish Sea Marine Survival Project understand if the water is currently suitable for salmon.
Unfortunately the weather wasn't ideal and the waves were quite choppy (I personally spent the entire day seasick, lending only minimal help to my talented team). But, Kidston and I learnt a lot about how to conduct water sampling from Ryan and Tom who have been involved with this project for three years.  Despite the seasickness, I look forward to heading out there again and contributing to this inspiring research that will help ensure the continued conservation of our salmon species in the future.
For more information visit the Salish Sea Marine Survival Project.