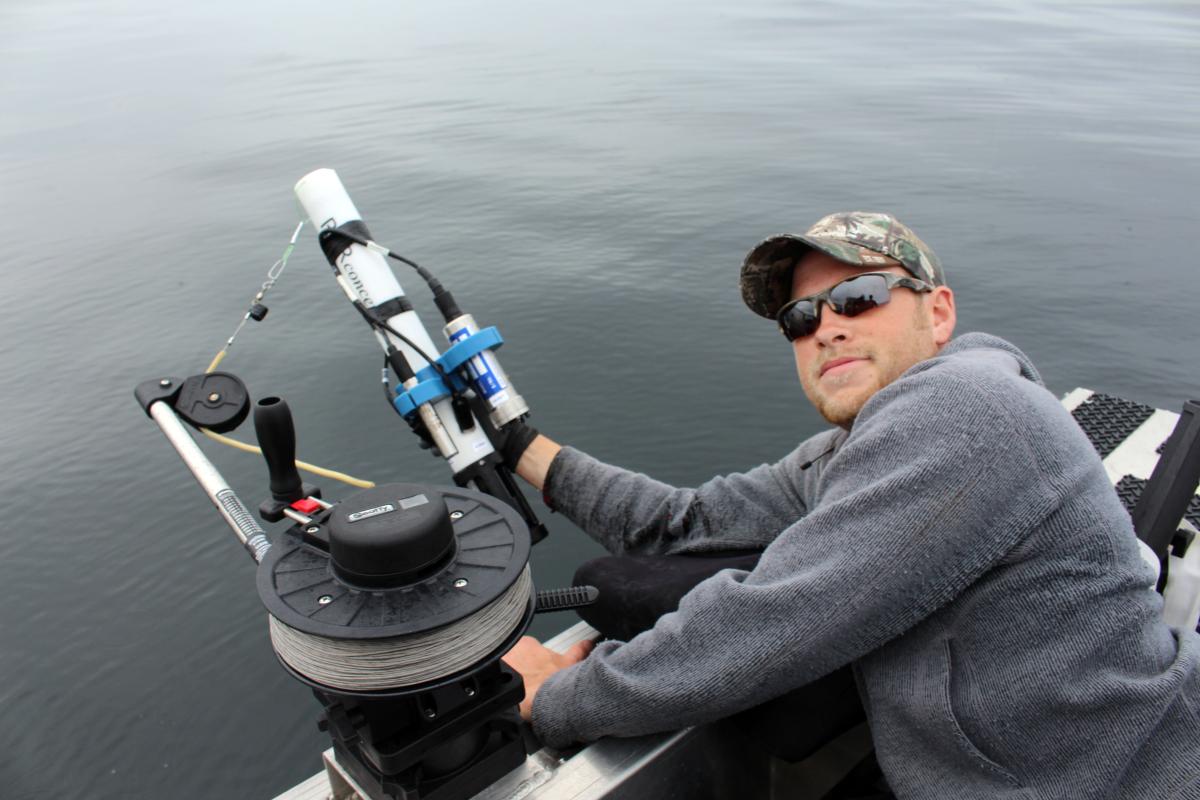 At 6 AM on Wednesday morning the MABRRI team (myself, Graham and Ryan) met at Schooner Cove marina for a boat tour of the Salish Sea. The main goal for the day was to collect data for the Salish Sea Marine Survival Project and to explore the many interesting islands and passages of the region. After launching the Silver Bullet and meeting up with Tom, Ryan's dad, we took off for our first sampling site for the day located in the middle of the Salish Sea.
Seven sites were sampled in various locations around the Salish Sea. A variety of equipment was used for sampling including a Niskin Bottle for collecting nutrient samples at depth, a CTD (conductivity, temperature and depth) device, and a Secchi Disc used for obtaining water clarity. A Scotty manual downrigger was also used to lower the equipment into the depths. The CTD device was lowered twice at each sampling location to a depth of 450 feet, while the Niskin Bottle was used at three of the seven sites. Nutrient levels were also collected at the surface. Data from the CTD device was downloaded to a tablet for analysis at a later date.
Once we completed work at the first site we travelled to Thormanby Island on the Sunshine Coast, where the second sampling site was located. As the boat slowed down while we neared the site, Graham spotted a pod of Pacific white-sided dolphins playing in the waves. We entered calm Bull Passage between Lasqueti and Jedediah Island. Wild sheep are known to roam the rocky shores of these islands but on this day we didn't see any. Ryan was very disappointed! A couple of commercial prawn boats plied the serene waters. On the other side of Bull Passage, the seas calmed down making for a comfortable cruise across the strait to Sisters Islets where another sampling site was located. The Silver Bullet smoothly dropped the waves on route to French Creek and back towards our starting point at Schooner Cove.
Our Salish Sea adventure also included a fishing stop where we managed to catch two nice halibut and a couple of rockfish! Although a long day on the water it felt awesome to contribute to the Salish Sea Marine Survival Project and expand our own knowledge of the geography of this special region.
Adventure tips:
There is a passenger ferry that travels to False Bay on Lasqueti Island from French Creek marina. See the Lasqueti Island Ferry Schedule If your looking to catch a salmon try using an army truck hootchie at 130 feet. Chinook and Coho salmon are found in the area from March to September

Prime time for whale watching is March to April when herring spawn on local beaches