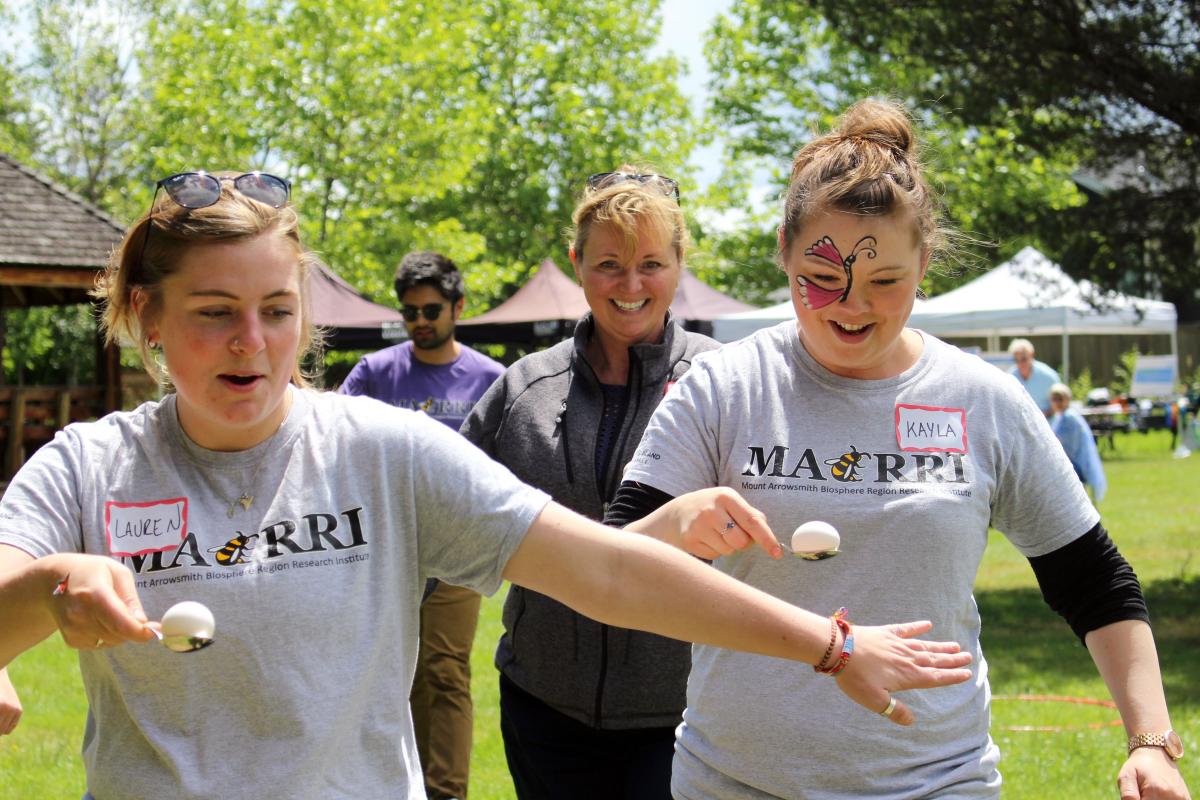 On June 9th the MABRRI team loaded up and headed to Foster Park in Parksville to get ready for the Spring Mini – the third consultation event for the Parksville Parks, Trails and Open Spaces Master Plan project. The Spring Mini was planned with the hopes of bringing community members to Foster Park to get their opinions on what they want to see for the parks, trails and open spaces in Parksville, as well as hold a community event where Parksville residents can come out and enjoy the sun.
The event included a picnic, an open house, and activities such as an egg race, tchoukball, a scavenger hunt, a photo booth, basketball, colouring, and face painting. Watching people of all ages race around the park with eggs on spoons was priceless. Families, friends, and neighbours, whether they showed up for the event specifically or came across it by accident, seemed to have a blast! Some big smiles were seen on the faces of kids that got their faces painted as colourful animals or got to dress up in historical clothing for the photo booth. The open house also drew members of the community in with posters describing the history of Foster Park, posters displaying the timeline for the overall Master Plan project, and a dot-voting system so people got a chance to vote for their favourite park themes. Overall, community members had a chance to relax, enjoy the beautiful park, eat some delicious hotdogs, and voice their opinions on Parksville's parks, trails and open spaces. It was so great to meet and talk with the people that will be influenced by the work we are doing.
In the end, the Parks, Trails and Open Spaces Master Plan is meant to enrich the community and give the community members all the benefits of living in a beautiful city with great and accessible parks and trails. The event was a big success for all who participated, both community members and MABRRI team members alike. A big thank you to Friends of Foster Park for their volunteers and equipment, and to Deb from the City of Parksville for helping plan the event and get the word out.