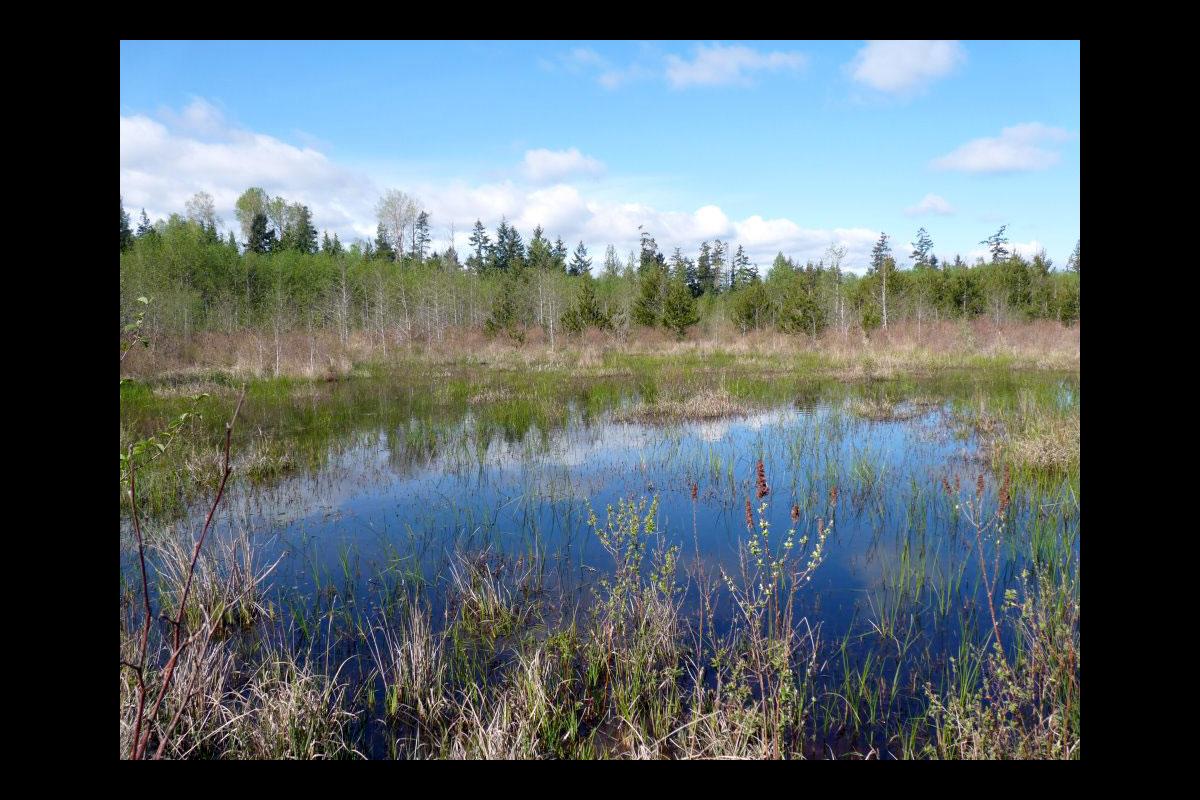 MSc. Environment & Management, CLGA, Christopher M. Stephens Consulting, Master of Community Planning Student at VIU
Wetlands are among our most valuable natural assets within the Mount Arrowsmith Biosphere Region, and some of the rarest and most at risk. Through a joint effort by the Mid Vancouver Island Habitat Enhancement Society, GW Solutions and Christopher M. Stephens Consulting forming part of the Lower Englishman River Watershed Study, local wetlands are being mapped out and unique ecosystems are being documented and described both inside and outside Parksville's protected areas.
In turn, this information will support efforts to educate members of the community through involvement, increase local knowledge and create a report that contains valuable information about our wetlands and how to go about managing or protecting them. Findings can be shared in the community and with stakeholders and local government, for what we know can then be protected.
An unknown wetland is far more likely to be lost, but a documented wetland can be better protected and enjoyed by the community.  
The City of Parksville is a destination for tourism with natural features ranging from world class beaches to rivers, forests, and hidden yet ecologically valuable and fascinating wetland ecosystems. Located within the endangered Coastal Douglas-fir Biogeoclimatic zone, Parksville's wetlands contribute to the quantity and quality of local water and wildlife habitat.
As the project consultant tasked with mapping and assessing wetlands in Parksville through fieldwork, volunteer engagement and a report, it has been an adventure to explore wetlands with volunteers and gain valuable data about some of our most important ecosystems. 
Over 12 volunteers from the Parksville and Nanaimo have come out on weekends, expressing their appreciation of the opportunity to be involved in community centered, scientific wetlands research.
Nicole Ure, a second year geography student from Vancouver Island University identified wetland conservation as an important subject and pursued the opportunity to become involved in the Lower Englishman River Watershed Wetlands Study after I made a presentation on wetland ecology at VIU. "I volunteered because wetland conservation is important and I wanted to learn more by getting involved in a local wetlands study," she explains, having spent three mornings in the field gaining experience in wetland boundary identification, conservation and mapping techniques.
Shelley Goertzen of Parksville discovered "just how diverse vegetation may be in transition areas between wetland and upland areas and how important these areas are for wetland protection."
Environmental consultant and MVIHES staff member Barb Riordan noted the effect of regional climate on wetland types, noting the differences between wetland hydrology in Northern BC versus southern BC.
Volunteer Travis Arnold identified the project and associated volunteer opportunities a valuable experience for biologists. "I gained valuable experience in habitat survey methods and wetland ecology research. It is good for a biologist to gain this real world experience. The differentiation between habitat types and the boundaries of a wetland as indicated by vegetation, soil and species occurrence is not something you can as easily understand from a textbook."
For more information, please email Christopher Stephens at cmstephens@shaw.ca or visit the Mid Vancouver Island Habitat Enhancement Society at www.mvihes.bc.ca 
Please see the Parksville Wetlands Initiative page at www.parksvillewetlands.weebly.com