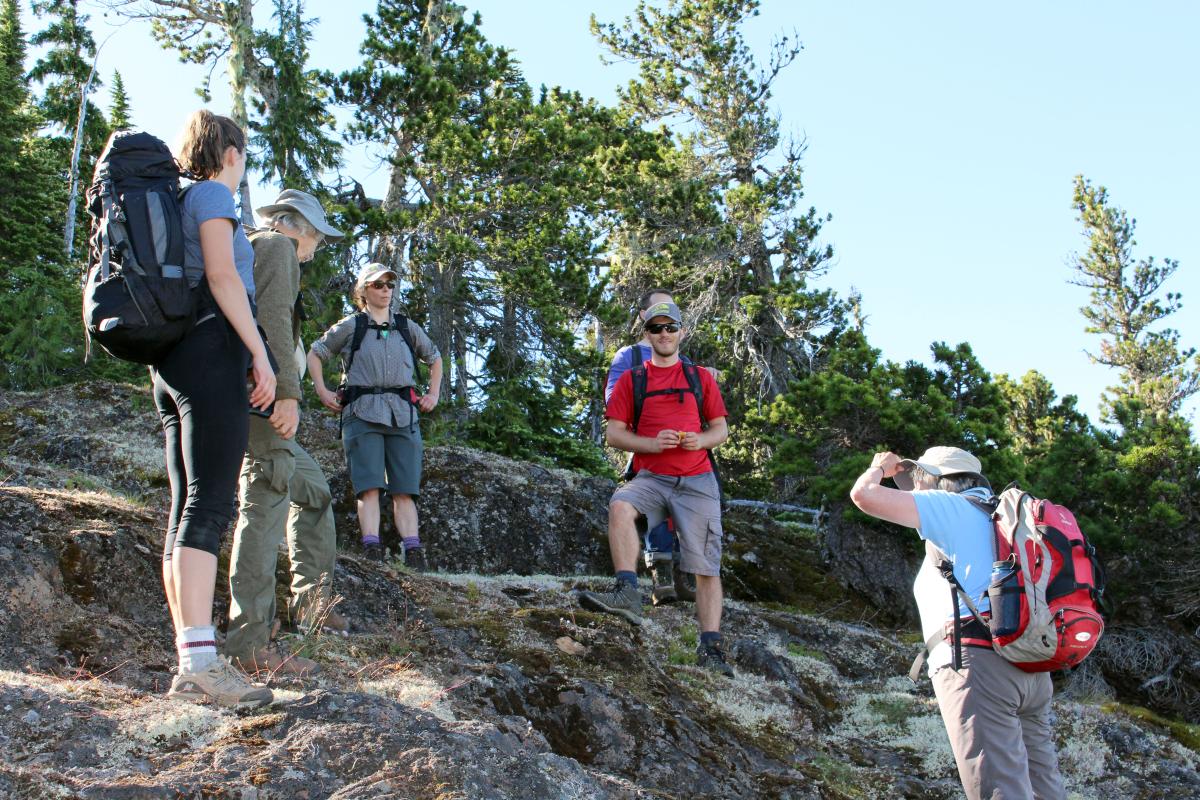 On June 28th and 29th, the MABRRI team participated in the GLORIA project  (Global Observation Research Initiative in Alpine environments), a study being undertaken to establish baseline information on alpine plant biodiversity and temperature trends in high elevation environments. Along with Kristina Swerhun, the projects coordinator and Hans an expert botanist, myself, Kayla, Graham, Ashley, and Nelson visited the slopes of Mount Arrowsmith to assist in collecting data on the unique plants and ecosystems found there. The GLORIA project aims to increase understanding of how subalpine and alpine plant communities respond and adapt to climate change.
On June 28th, the MABRRI team helped re-establish the research plots that were initially installed on Mount Arrowsmith 10 years prior to our visit. Our first stop was the Shari's Summit site located at an elevation of 1,450 metres that offered a spectacular view of the Alberni and Cameron River Valley. After locating the plots at Shari's Summit, the team travelled to the Kristina's Crag site located at an elevation of 1,514 meters where we also re-located the previously established research plots. On June 29th, the team returned to the Shari's Summit site and surveyed the vegetation plots recording information on the species present, species diversity, and other ecological information. The Mount Arrowsmith Biosphere Region Research Institute (MABRRI) will be taking over the monitoring of the Mount Arrowsmith portion of the project and will be sampling the vegetation plots again in 2021. The MABRRI team all agreed that the experience was very rewarding and increased our personal ability to identify high elevation plant species.
Adventure Tips:
Several species of wildflowers can be found on the upper slopes of Mount Arrowsmith. The best time to view blooming wildflowers is in the Spring between May and July. Remember to tread lightly in these sensitive alpine ecosystems,

An abundance of wildlife can be found on the slopes of Mount Arrowsmith - hummingbirds, blue grouse, and bald eagles can all be viewed in the summer months

Several mountain peaks can be viewed from the peak of Mount Arrowsmith. Mount Cokely can be viewed to the North while Mount Moriarty lies to the South. Across the Alberni Valley in the distance is Nahmint Mountain and 5040 Peak.