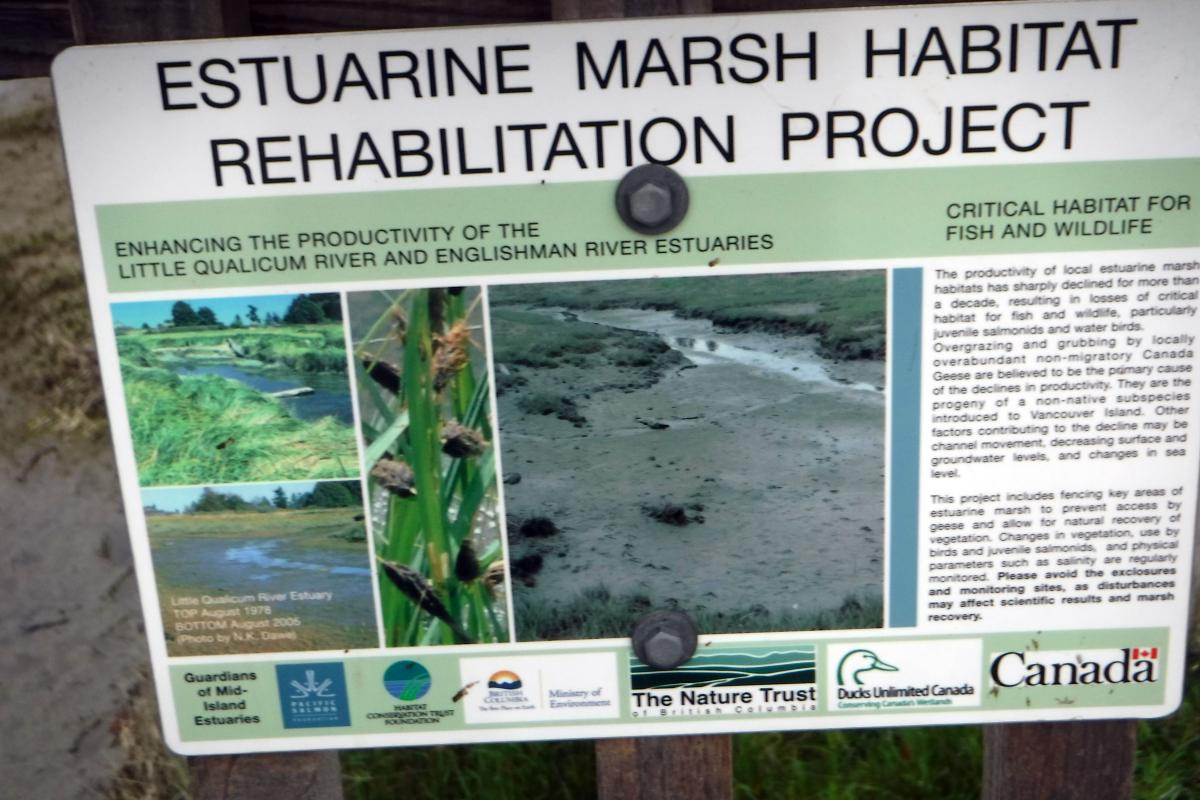 Today  we, the MABRRI research assistants, headed out to Englishman and Little Qualicum River estuaries. These estuaries are the areas being surveyed this summer by MABRRI for the presence of eelgrass. To start the day we loaded up the VIU Truck and set off for the Englishman River Estuary.
Upon arrival, those of us with chest waders put them on and we set off to walk estuary in search of eelgrass. Heading up the trails along the border of the estuary, we went to see if we could see any from an elevated position. We then headed into the estuary proper to search the channels. Hiking all the way out past the mouth of the river, we did not find any eelgrass. We decided that the tide was not low enough to see any eelgrass in the beach area on this day so we then headed off to Little Qualicum Estuary.
We arrived at Little Qualicum Estuary, hopeful to find some eelgrass. In this location we only examined the beach. Our actual fieldwork in this estuary will take place in the Parksville-Qualicum Beach Wildlife Management Area with special permissions and supervision. We managed to locate some sparse Zostera Japonica or Japanese Eelgrass, but it was not a very significant amount. Even wading out as far as possible, no more was located this time.
A bit disappointed, we packed up and headed back to VIU to take stock of what we had found, hopeful that our full survey and scuba investigation will yield more of eelgrass, an important indicator of ecosystem health.
Tips
Be careful walking in estuaries. Avoid the central channels as the ground there can be unstable, leading to quicksand-like properties. Whenever possible keep to the outside edges and trails if there are any to disturb the area as little as possible.

Be conscious of existing Conservation Areas and the regulations associated with them before going to explore. Often these are areas with great wildlife viewing, but may only be available to the public at certain times and may not allow dogs depending on factors such as important nesting times.

Diverse wildlife lives in the intertidal zone, if you can find a tidal pool, you can observe many different and colourful species in a short time.