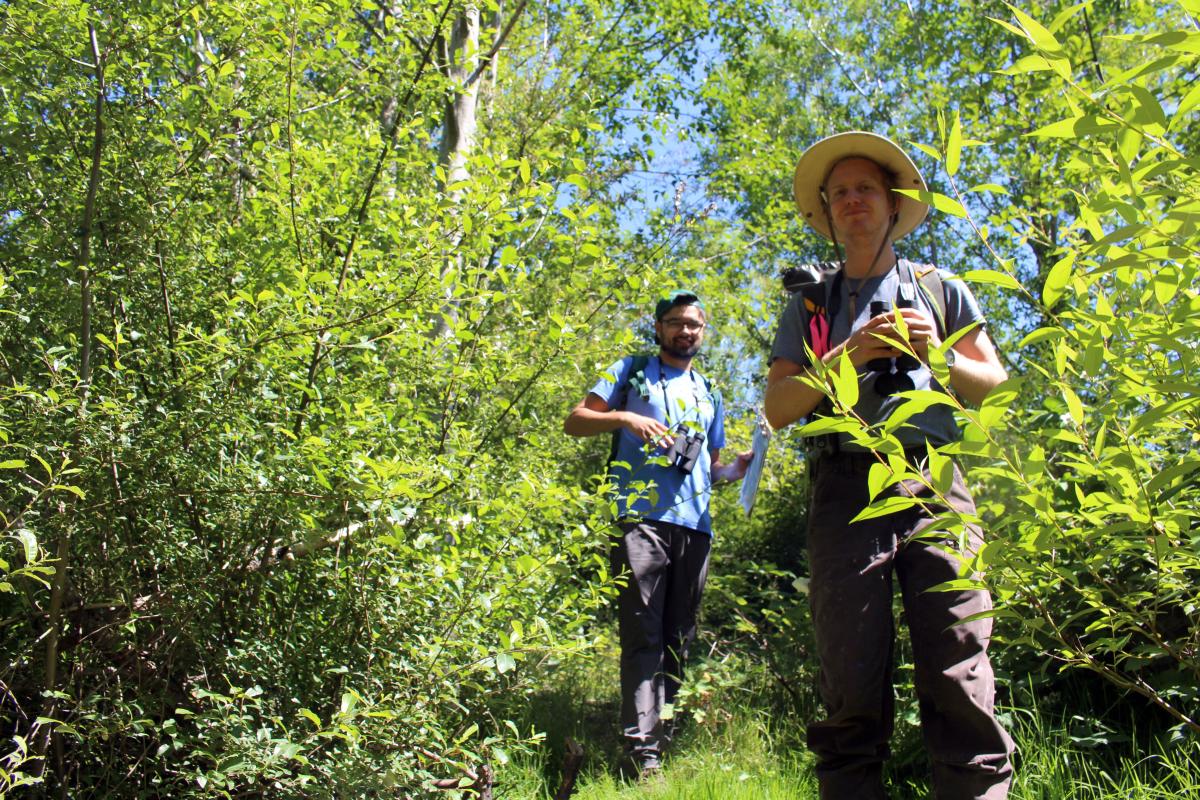 Alan:
On June 15 a team from MABRRI, with support from members of the Friends of French Creek Conservation Society (FFCCS), spent the day at the French Creek Estuary in Parksville, BC conducting an extensive ecological survey.  They did this in order to better understand an undeveloped property on the estuary in hopes of helping to turn it into a protected area due to its ecological significance as well as the fact that it is a popular natural walking trail for the community.  As part of the survey, students conducted numerous activities including wetland mapping, streambed mapping, forest transects, and flora and fauna surveys.
Other students, myself included, spent the day doing a fauna survey, during which they identified around 17 different bird species including a possible heronry of Great Blue Herons, numerous insect species, as well as evidence of beavers and river otters living and nesting on the site.  It was a real treat for us to get to spend the day exploring the area's diverse ecosystems, which included forests, marshes, and grasslands, in search of rare and at-risk species.  There's also a unique thrill to discovering a gnawed tree left by a beaver or to identifying a bird from its distinct song.
...
Roxanne:
My team – Ashley, Kayla, and I – took part in the wetland portion of the project. We grabbed our auger, our hip-waders, our field guides and our wetland data sheets and began mapping first thing in the morning. We initially started off by doing some quick reconnaissance work and scoping out our field sites and then began work in the forested swamp area. Here we ran our baseline, transects and collected our soil sample. Then we went into the swamp, the marsh, and finally the meadow. At each field site we conducted a flora survey to help us identify common wetland species, invasive species, and species at-risk. In the forested swamp area we recorded an abundance of salmon berry, Himalayan blackberry, Nootka rose, baldhip rose, and red alder – a lot of which had been gnawed down, or partially so, by beavers. In the marsh area we observed a sea of cat tails, marsh cinquefoil, and hardhack, and the meadows were plentiful with numerous different grass species and wildflowers.
...
Alex:
Alongside one of our MABRRI Coordinators, Larissa Thelin, I set off to map the various streambeds of the French creek conservation project property. With our GPS units in hand, we set up our POC, stepped in and began to track our route through the beds. Determined to map them as best as possible, we crawled through Himalayan Blackberry, ducked under overhanging branches (I took one for the team, taking a branch to the head along the way) and nearly lost our boots to the mud. As we made our way through, however, we discovered that the streambeds appeared fractured and broken up by debris, vegetation, and varying topography. At our turn around point, we found ourselves looking at what appeared to be a smaller, second wetland hosting its own small army of bullfrogs. Not looking for a fight with them, we turned around and made our way back to our POC. Walking through the streambeds with our GPS units allowed us to track an accurate route of where and how the water may flow through the property by being able to upload the track to our GIS software and analyze the data we've collected. By doing so, we can hope to better understand how it affects the flora and fauna that inhabit the area.
Once the streambeds were mapped, we then grouped up with some of our other researchers and coordinators, Kidston, Haley and Chrissy to create a forest transect to record the flora in the area. Two transects were set up and quadrats of 20x20m, 2x2m and 1x1m were all completed along each transect. This, of course, involved more Himalayan blackberry to the legs and tripping over hidden logs as we set them up. (Chrissy did great; me, not so much). However, it paid off as we were able to record a variety of both native and invasive flora to add to our research.