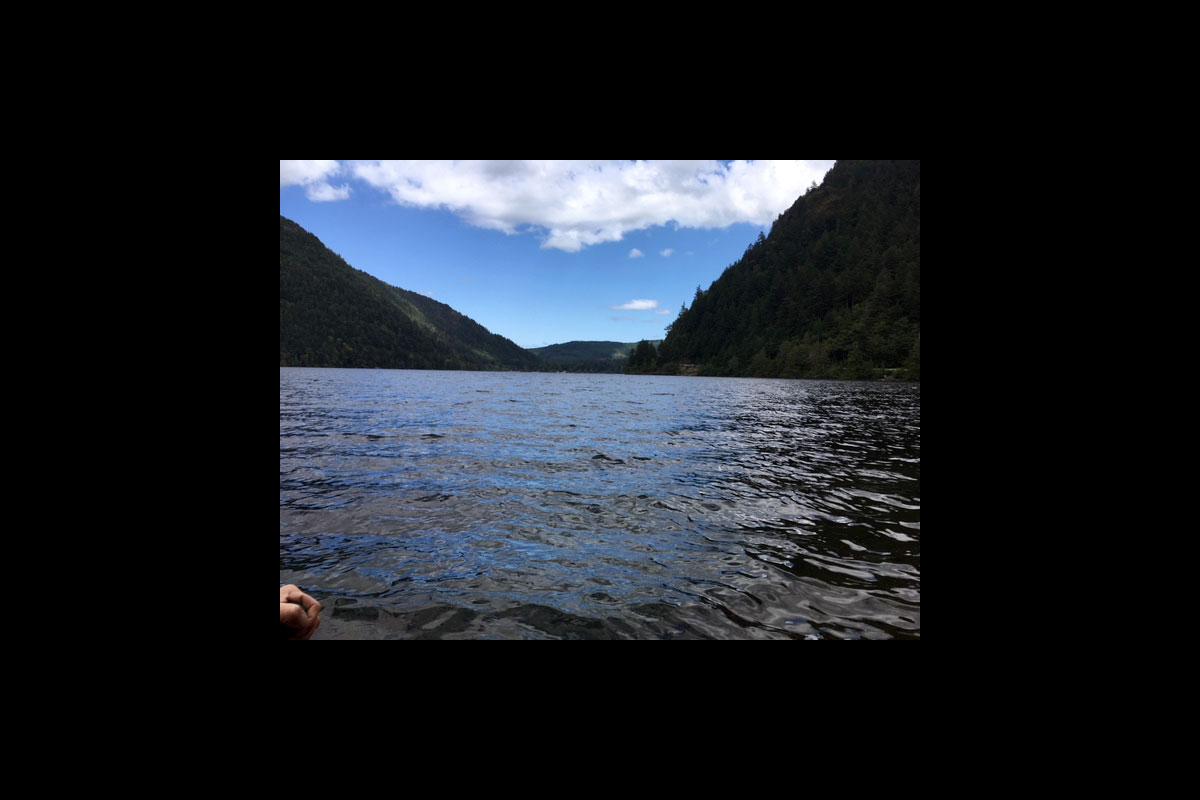 I couldn't ask for a better way to spend a Thursday then out on the boat on Cameron Lake. It was my very first time doing lake monitoring aboard 'Big Red' (a name I have given to the MABRRI zodiac). I've been hoping to take part in this project all summer, so needless to say, I was pumped to get out there bright and early in the morning. This project, funded by the VIU Research and Awards committee, is currently in its 2nd year and has, from my understanding, been an overall great success. Our Thursday morning mission began when Captain Ryan and I set out into the lake, maybe a kilometer or two away from the dock, until we reached a depth of approximately 30 metres. Here we dropped the weighted sonde into the water and began recording data, including: temperature, pH, dissolved oxygen, conductivity, and turbidity. Then we lowered the Secchi disk in the water until we couldn't see it anymore to give us a reasonable estimate of water clarity which we measured at approximately 8.5 metres. If that's not a clear lake I'm not sure what is!
Following, lake monitoring we filled in some of the data gaps for the Cameron Lake Bathymetric Mapping project. We did so by boating in a somewhat zig-zag pattern across the lake, taking depth data at specific GPS points, until we gathered enough information to add to and refine the previously collected data which will be used to produce an updated bathymetry map of the lake.
Luckily, we spent the day on the lake with clear skies and little wind. Only upon our return to the dock did the wind pick up and I got soaked up to my chest trying to push the boat back onto the trailer. I specifically brought my chest waders to avoid this situation but I guess after a long day I was feeling adventurous, and maybe a little forgetful, when I went for this refreshing dip in the water. All in all though, this was such a great day out on the water and I'm so grateful I was able to be a part of this project.