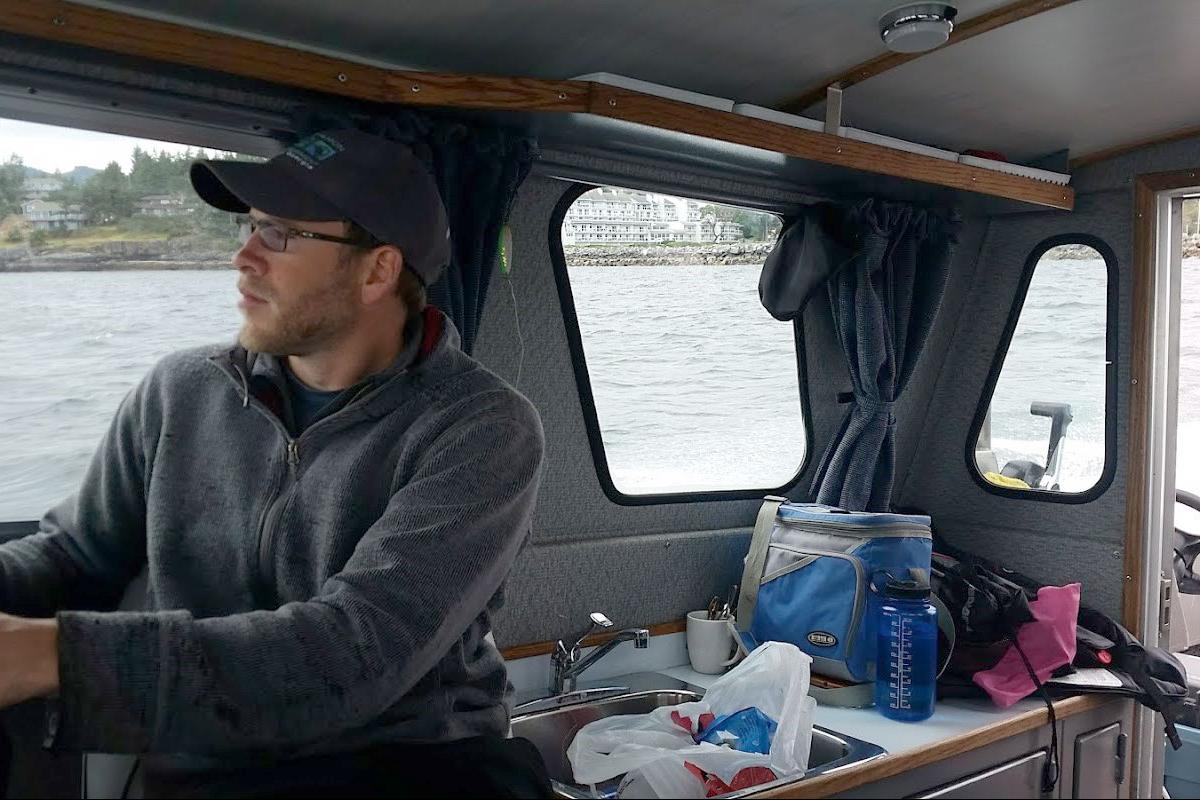 The perks of working with MABRRI were on full display on Friday June 9th when myself, Ryan and Maria launched The Silver Bullet (Ryan's boat) from Schooner Cove in Nanoose. We set out to locate and sample bull kelp in the Salish Sea, which has been disappearing along the coast of south east Vancouver Island.  Our first target was around the east and north side of Gabriola Island where I snorkeled and searched the cool waters for any signs of bull kelp.  However, while we found some drifting in the tide line, no live bull kelp was found after over an hour of searching. Next, we drove around the western side of Gabriola, admiring the beautiful homes and the weathered sandstone cliffs while keeping our eyes peeled for signs of bull kelp on our way to Dodd Narrows. The narrows, between Mudge Island and Vancouver Island, is quite daunting, with huge amounts of water being squeezed through the two land masses as the tides change. The water appears to be river like, with whirlpools and rapids appearing from seemingly nowhere, ready to take a boat under. Luckily, our captain Ryan knew exactly what he was doing and dropped off myself and Maria for a quick snorkel and search along the shores preceding the narrows. This time we were in luck, hitting a jackpot of bull kelp that we were able to sample safely away from the narrows.  The diversity surrounding the bull kelp was impressive, with schools of juvenile salmon and perch swimming with the current and hiding out amongst the kelp. We saw dozens of starfish and sea stars, mussels, barnacles, crabs, sea anemones, and a variety of seaweeds scattered on the rocks where the water rushed past like a river as it was pulled through the narrows.
  Ryan picked us up after we had collected all of our needed samples and we headed back to Nanoose satisfied with a great day snorkeling and searching for bull kelp in the Salish Sea. However, the day wasn't complete without a quick stop for some salmon fishing around the Winchelsea Islands. While we didn't catch any fish this time, I was still thankful for getting out on the water with some of the MABRRI team and realizing how lucky we are to get to enjoy our jobs as much as we do.
For more information on the bull kelp sampling and monitoring project, check out MABRRI Projects.