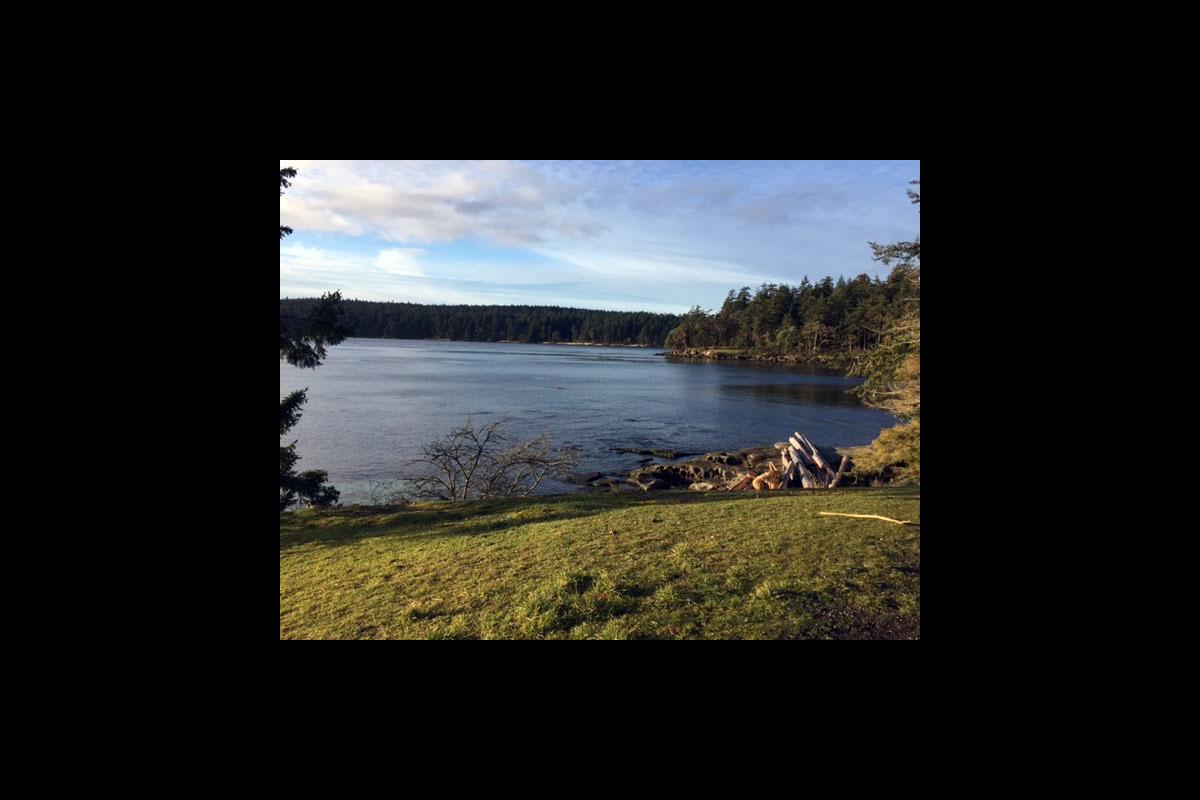 On Monday morning a few of the MABRRI researchers (Graham, Kayla, Ryan) loaded up our inflatable boat (Big Red), a kayak, our inflatable life jackets, three dry suits for snorkeling, our flippers and masks and the all of the necessary safety gear into the F-150 VIU work truck. We then made a quick stop for coffee and some breaky and headed for the 6:30am ferry over to Gabriola Island. Once we made it over to Gabriola, we found our way to Orlebar Point and Barry Point with the help of our tour guide (Kayla) who grew up on Gabriola Island. We planned on launching our raft and kayak at Barry Point so we could recce the coastline in order to find the kelp beds that the Help the Kelp Foundation had mapped out in 2014. However, the wind was blowing a steady 20 MPH out of the north and gusting 25-30 MPH, which made it impossible for us to launch any boats safely.
So we made the decision to go with "plan b" and headed around to the Southwest side of the island where the water was slightly more sheltered from the blustery, northerly winter outflow. Once there we found a wonderful park (Drumbeg Park) at the South end of the island where we could overlook, and scout out the shoreline to see if there was any kelp left over from 2016, that was still visible on the sea surface. But, we found none. So we made our way to El Verano Dr where we found a small, well used boat launch in false narrows which was fairly sheltered from the wind.
Once we got the boat in the water, we wriggled into our dry suits (Which I'm sure would have been entertaining to watch) and piled in the boat. Equipped with GPS and sonar chart in hand we navigated southwards, with our small 6hp Yamaha outboard getting a little extra propulsion by the strong current created by the Ebbing tide. We scanned the frigid, shallow waters of False Narrows south to Josef Point and Drumbeg Park, and were unsuccessful in finding any kelp to collect samples of. However, we did find a good amount of Eelgrass which was a welcome sight. We also met some Gabriola locals who had informed us that there was kelp present in False Narrows during the summer of 2016, which was good news to hear. All in all it was a great trip and we'll be going back again in the spring to collect samples of the 2017 kelp.
Adventure Tips:
If you ever find yourself getting adventurous, I highly recommend a trip over to Gabriola Island to see Drumbeg Park, which offers spectacular views of a few of the Gulf Islands.
If you have a kayak and are looking for a good launch and some spectacular paddling with great scenery and lots of sea life, including Stellar Sea lions, Seals, and many sea going water fowl. Check out the launch at EL Verano Dr.
If you are just looking to get out and do some sun tanning, I highly recommend checking out Twin beaches which is only a few minutes from the ferry terminal on Gabriola Island, and was one of our tour guides favorite hangout spots growing up.