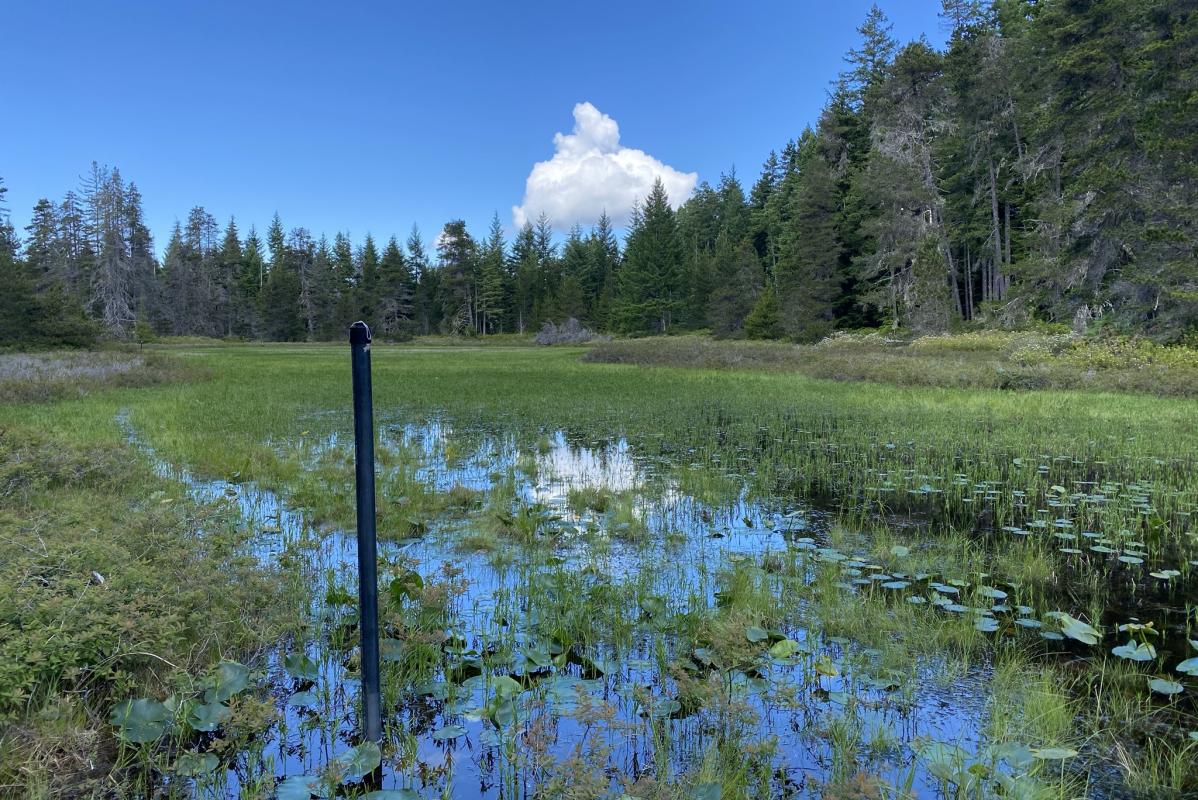 The MABR is comprised of many unique and diverse ecological landscapes, including some very spectacular wetlands! However, relatively little is known about these wetlands and their importance in the hydrology of the MABR. Since both groundwater and surface water play a critical role in providing many coastal communities in MABR with water throughout the year, the Regional District of Nanaimo's (RDN) Drinking Water and Watershed Protection (DWWP) program and MABRRI began researching more about these wetlands through the Wetland Mapping and Monitoring project. The main objective of this project is to gather more information about these wetlands and from this information, inform policy and planning around wetlands to better protect these landscapes and sensitive ecosystems. At this point, the project going forward in collaboration with local volunteer groups involved in identifying seasonal variation between sites and data acquisition. 
On June 8th, I joined MABRRI Project Coordinator, Jenica Ng-Cornish, and fellow RA, Rebecca Townsley to do fieldwork at various wetland sites in the MABR. Jenica, Rebecca and I met with Dr. Alan Gilchrist from VIU's Geography department – he is helping facilitate our fieldwork and with data interpretation. Our goal for the day was to determine the variation in elevation between a number of piezometers at three separate wetland sites. The first two sites we visited were located in the Big Qualicum Water Region and the last site was located in the French Creek Water Region. At each site we set up a level laser and took readings from our set location to each piezometer, which is a setup that measures the water level onsite. From the measurements we're able to do calculations that determine the relative elevation between each of the piezometers, which will provide more accurate water levels was analyzing the data. 
It was a gorgeous sunny day and it only added to the beauty of each wetland site! Each site had a diverse abundance of flora and fauna from carnivorous plants such as sundew, to woodpeckers, salamanders, and frogs! Visiting these sites really made me realize just how important it is to conserve and protect these ecosystems from development. In addition to this, Alan further explained the importance of these wetlands in potential groundwater recharge and the overall hydrological cycle. 
From this experience, I look at wetlands a little bit differently than I did before. Coming from a biology and geography background, I learned so much in class about the importance of wetlands in natural habitat and hydrology. However, nothing really compares to going out in over-sized waders in knee deep mud and water to amerce yourself in the beauty of these swamps – the wet sock was well worth it!