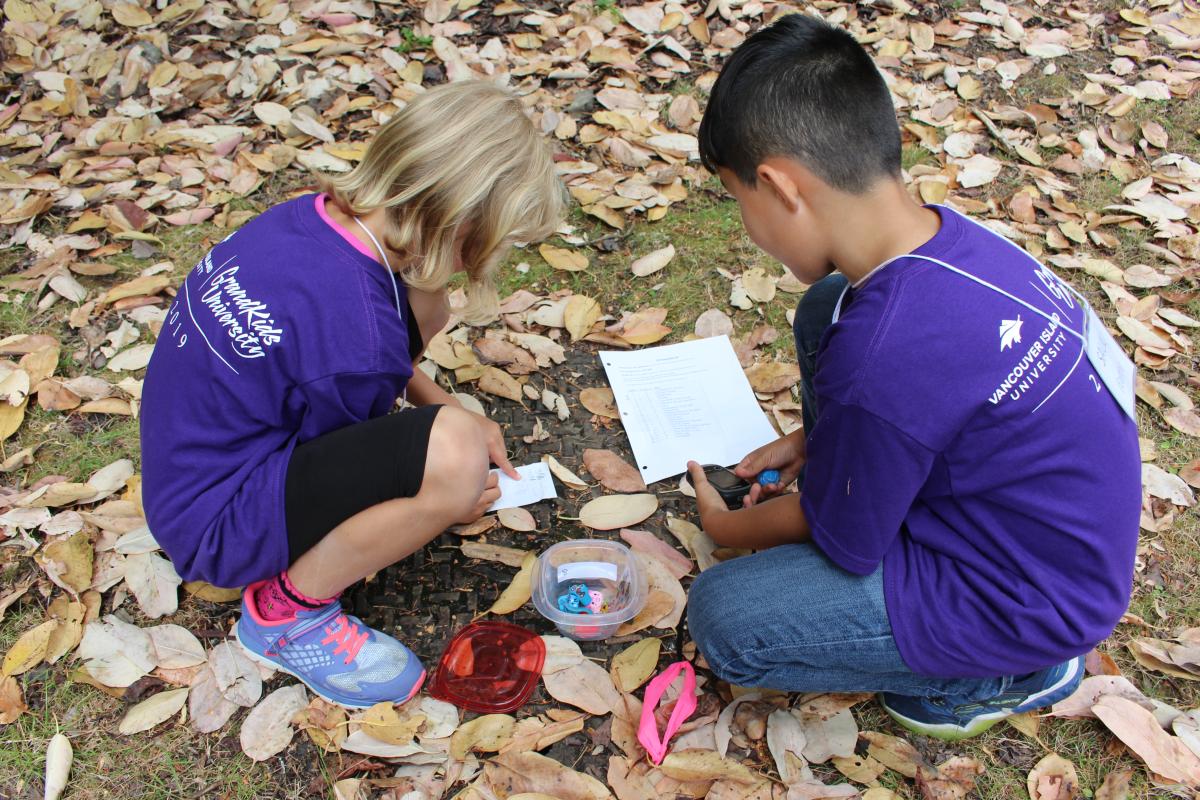 On July 4th and July 5th the Grandkids University (GKU) was held at VIU! Mandy Hobkirk and I had the fun opportunity to help with activities run by Jessica Craig, the Geography Department's Technician, for the future GKU Geography graduates. GKU is for children ages 7 to 13 and features two days of activities under a selected Major, such as Jessica's 'Earth Explorers 2.0' for Geography. Jessica worked hard to plan two days' worth of fun and informative learning activities for the kids and their parent or grandparents.
Mandy helped on the first day, which focused on learning about planning, maps and navigation. This day included learning how to read maps, helping the kids learn how to make their own compass, designing parks and spending the afternoon geocaching. The kids were excited to spend the afternoon outside with the geocaching. For this activity the group was broken up into different teams on the search for their team mascot, a miniature dinosaur that got lost while out exploring!
The second day was focused on geology and weather science, and was wrapped up with an elaborate Escape Room designed by Jessica. GKU students learned about physical and chemical weathering of rocks, investigated the different properties of rocks by testing for magnetism and if all rocks sink in water (the kids were surprised to find out that pumice does not!). Friday's class also included making a cloud in a bottle and going outside to test out a handheld weather station to learn about weather.
To test scientific hypotheses, the kids ran an experiment to see if either dry or wet sand would heat up faster. Swapping activities, while one team of kids ran the sand experiment, another set of future graduates got to learn about water, using Jessica's self-built water table. The water table helped students learn about how running water causes erosion, sedimentation and builds deltas, and also showed how wells work and what happens when a dam breaks.
The final activity for the Geography GKU group was an Escape Room put together by Jessica. This Escape Room included breaking into two different rooms by finding hidden puzzle pieces and clues, solving the puzzles and getting past locks on the doors to find the Top Secret treasure using the knowledge they had gained over the two days. This was a great team working experience enjoyed by the kids and the grandparents.
We look forward to seeing the next group of keen future graduates in the Geography Major for Grandkids University 2020!
-
For more information on Grandkids University, please visit the GKU website at: https://adm.viu.ca/grandkids-university