MABRRI's research and community engagement coordinators, project coordinators, VIU students, and faculty associates work with community partners to create and conduct research projects that advance our understanding of people and nature--and the interaction between these--within the Mount Arrowsmith Biosphere Region. Listed below are some of the projects that MABRRI is currently working on within the biosphere region. For other projects we are working on across Vancouver Island, check out the Other VIU Research Projects page.
Projects in the Mount Arrowsmith Biosphere Region
Forage Fish Spawning Habitat Monitoring
The Forage Fish Spawning Habitat Monitoring project was developed with three main objectives in mind: [1] create predictive mapping of forage fish spawning habitat from Deep Bay south to Sooke, including sections within the MABR [2] conduct sampling of selected sites in the same region as the predictive mapping, groundtruthing the mapping that is created, and [3] develop a citizen science component to the project that will build capacity on Vancouver Island to monitor and map the greatest amount of forage fish spawning habitat as possible. Ultimately, once this project is well established and more groups have been trained by MABRRI to conduct the forage fish sampling, we would like to see this project expand outside the identified region to include the entirety of Vancouver Island. Initial funding from the Nature Trust of BC, World Wildlife Fund (WWF) Canada, and Vancouver Island University (VIU) has allowed MABRRI to get this project started and have our staff trained.
The project began in October 2017 when three VIU students were hired on to be trained and conduct the sampling with some of the other MABRRI Research Assistants. On November 1st, Phillip Dionne, a Nearshore and Forage Fish Scientist from the Washington Department of Fish and Wildlife, made the trip up to Nanaimo to train seven MABRRI and two WWF-Canada team members. Phillip instructed the newest forage fish sampling methodology called the "vortex method for separation of forage fish eggs from beach sediment." This method is more efficient, more effective, and more community-friendly than previously used sampling methods that were used by other forage fish sampling organizations on Vancouver Island.
Beginning in December, after a second training session regarding habitat characteristics with Pam Thuringer, a marine biologist volunteer from WWF-Canada, MABRRI was able to begin scouting sites and sampling in the Qualicum Beach area. In addition to sampling, MABRRI hired on two students from the Advanced Diploma in GIS Applications to assist with the predictive mapping portion of the project. MABRRI's current goals include: [1] by the end of March to have the Parksville Qualicum Beach area sites established and sampled, [2] by the end of 2018 have all the sites in the Regional District of Nanaimo established and sampled, beginning to expand south into the Cowichan Valley Regional District, and [3] beginning in March begin to host information/training sessions with interested Vancouver Island residents that would like to contribute to data collection.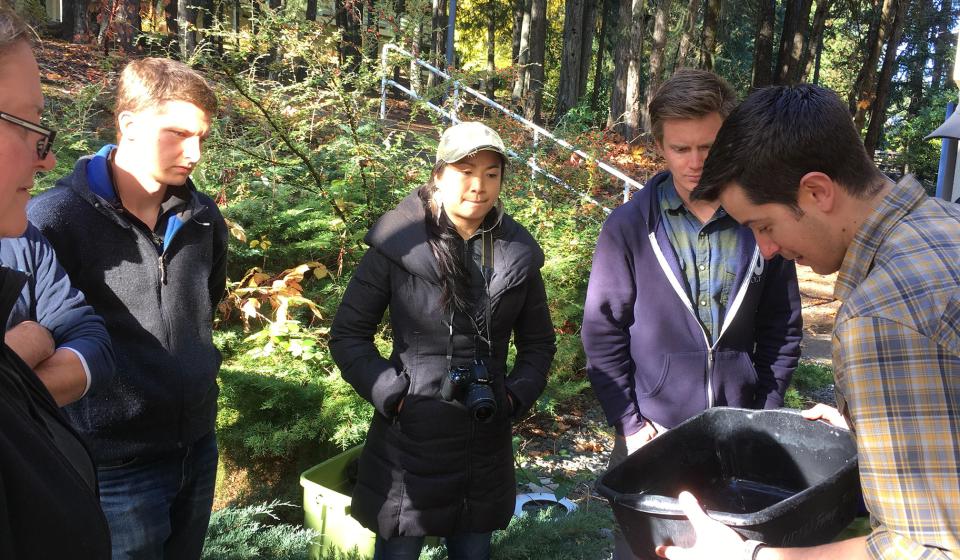 The MABR Youth Program
MABRRI is currently in the process of developing the MABR Youth Program. The goal behind the program is to enhance sustainability in the biosphere region and surrounding communities by instilling these values in the region's youth. It will consist of a series of workshops targeted towards different subjects that will teach about environmental, cultural, social, and economic sustainability; each workshop will be entirely mobile so that they can be brought into any classroom in the biosphere region and surrounding communities. Topics such as Flora within the MABR or Fresh Water within the MABR will allow MABRRI to teach about different ecosystems, as well as impacts on them and challenges with managing them. The workshops will also give MABRRI the opportunity to spread awareness of its research projects related to the workshop topic, giving youth real-world examples of work being done to learn more about our region. Each workshop will be able to be tailored to different age group and will include a hands-on or outdoor activity to give youth an interactive and experiential learning experience. With secured funding, and with demonstrated interest from the community, MABRRI hopes to begin facilitation of the MABR Youth Program in the fall of 2018.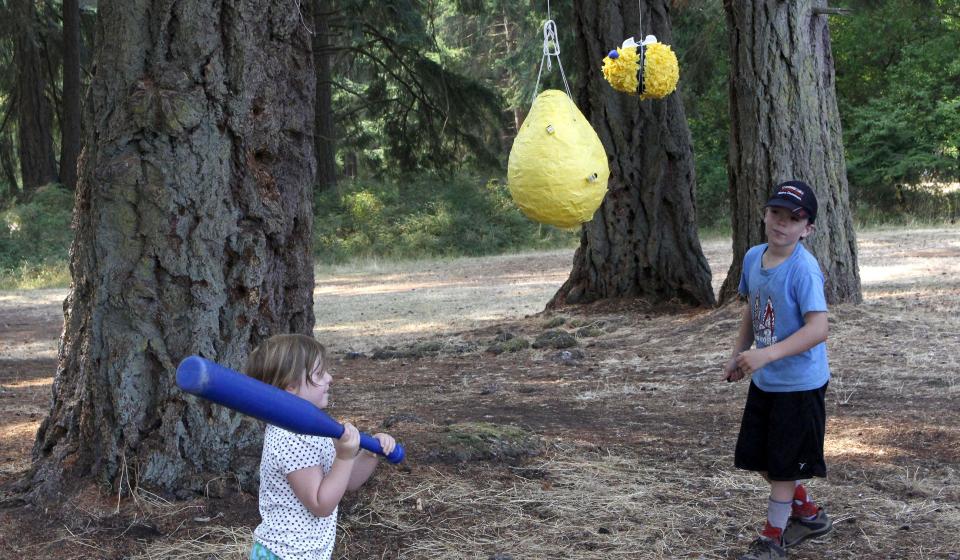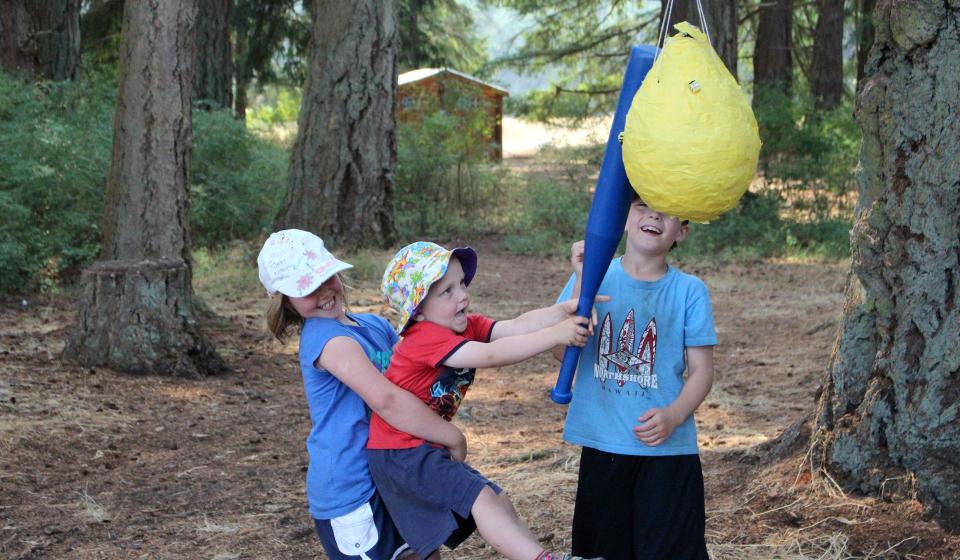 The MABR Amazing Places
Amazing Places is based on a mapping project launched by the Fundy Biosphere Reserve in New Brunswick. It began with the desire to guide visitors beyond the national park boundaries, and especially promote hiking on the Fundy Footpath. Subsequently, three biosphere reserves in Ontario have launched an Amazing Places pilot project, which will highlight the biosphere regions' unique environmental and cultural significance.
In 2016, the Mount Arrowsmith Biosphere Region (MABR) launched the Amazing Places in British Columbia. A community nomination process to select 10 Amazing Places in the MABR took place in September 2016. Following the do no harm model, Amazing Places are chosen in locations that can handle increased visitation without compromising what makes the place Amazing.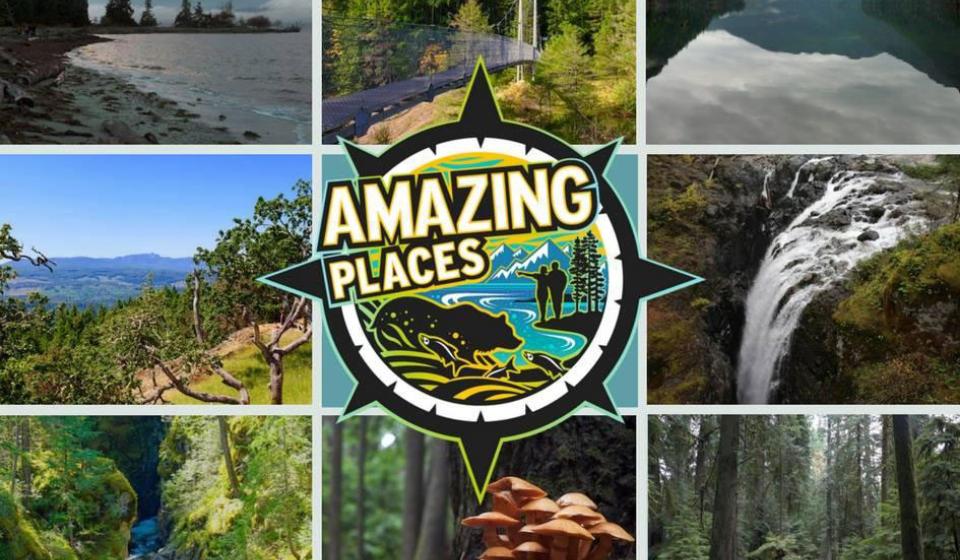 Ecological Research as Education Network (EREN) Permanent Forest Plot Project (PFPP)
The Ecological Research as Education Network (EREN) developed the Permanent Forest Plot Project (PFPP), which involves universities throughout North America; students and faculty from different institutions are given a strict protocol to follow when they are establishing their forest plots. The goal of the PFPP is to establish Permanent Forest Plots (PFPs) in a range of different ecosystems, which will allow students and faculty to observe and compare different aspects, such as biomass, carbon sequestering abilities, species diversity and presence or absence of invasive species, in varying ecosystems.
In 1999, Dr. Glen Jamieson and the Mount Arrowsmith Biosphere Foundation (MABF) established a 100m x 100m forest plot at Englishman River Falls Provincial Park. The MABF collected the location, size and type of each tree in the plot but never returned to continue monitoring the sites after their establishment. In 2016, MABRRI established two interior, 20m x 20m forest plots, using the EREN protocol, within the MABF plot and two edge plots outside the MABF plot. In addition to the sites at Englishman River Falls Provincial Park, the MABRRI student researchers established two new plots at Milner Gardens & Woodland in February 2017; there was one interior and one edge plot established. The MABRRI team will continue to monitor each of these sites every five years, documenting the species, size, location and status (alive or dead) of each of the trees within each plot. All collected data is uploaded on the EREN database; therefore, along with Vancouver Island University, other institution's faculty and students can use our data to calculate different parameters, including biomass, carbon sequestering abilities, and species richness and make comparisons between the Mount Arrowsmith Biosphere Region (MABR) and the region they live in. The MABRRI student researchers will be able to recognize how these regions of the MABR are changing and how they may be effected differently by climate change.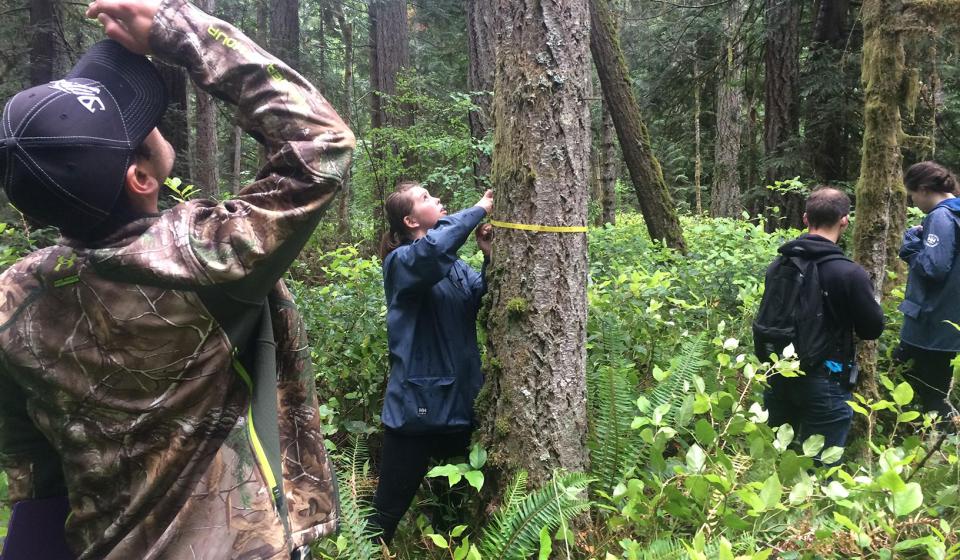 Wetland Mapping in the Regional District of Nanaimo
In 2016 the Regional District of Nanaimo (RDN), Vancouver Island University and MABRRI partnered and developed a five year project. The project reflects the RDN's Drinking Water and Watershed Protection Program mandate which aims to learn more about the water resources in our region, to better inform land use decisions. The program areas include: Providing Public Education and Fostering Awareness; Improving Local Data Collection and Monitoring; Linking to Policy and Planning. Since 2009, the DWWP Program has been building the local, regional dataset of water information. Groundwater level monitoring and surface water quality monitoring have been two main areas of focus and success. 
A prominent data gap that remains is the lack of information on wetlands in our region: where they are, how they are classified and what connection they have to groundwater recharge. This is important data that is linked to land use planning in our region. If we have a good inventory of where the wetlands are, and if we can quantify their role in conveying and cleaning water for our communities that are primarily reliant on groundwater, and for our streams that benefit from groundwater contributions to base-flow, then subsequently regional land planning can be directed in such a way as to protect these key features.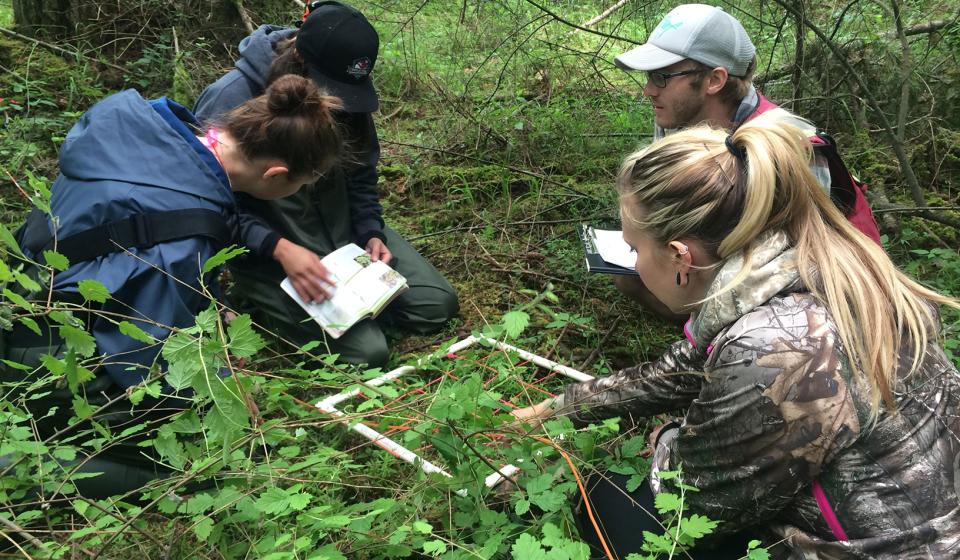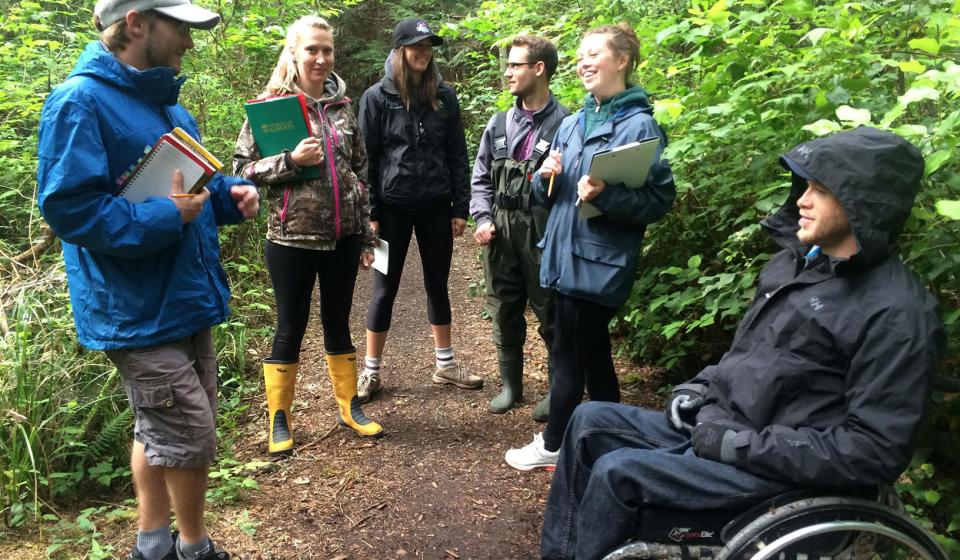 Coastal Forest Plant Phenology Research and Monitoring Pilot
In partnership with Heather Klassen (Ministry of Forests, Lands, Natural Resource Operations & Rural Development), Matt Bowes (VIU), and Milner Gardens and Woodland, MABRRI is working to assess and monitor climate change effects on local plant phenology. By monitoring the growing seasons of different coastal plants, and by comparing these growing seasons to weather data, MABRRI can work to identify any potential changing trends in the growing seasons of Vancouver Island's ecosystems. Three data collection sites have been established at Milner Gardens & Woodland and one has been established at the summit of Mount Arrowsmith. A series of trail cameras have been installed at all sites to determine their feasibility in detecting changes in plant development. Weather stations at both locations allow for comparisons between data and local climate regimes. 2017 was MABRRI's first year of data collection and student researchers collected data weekly during the summer and biweekly during the spring and fall. Data collection will continue for a number of years in order to see how growing seasons may be shifting with changing climate patterns.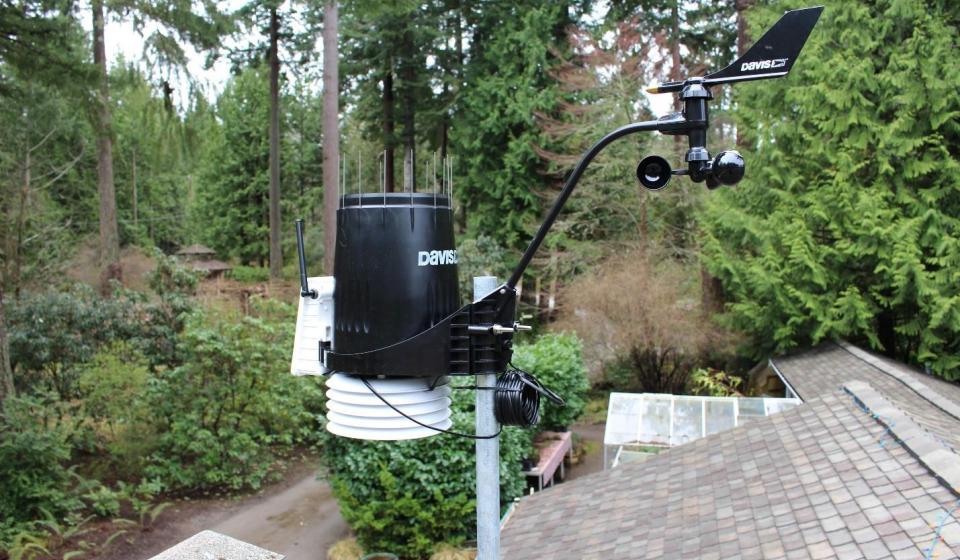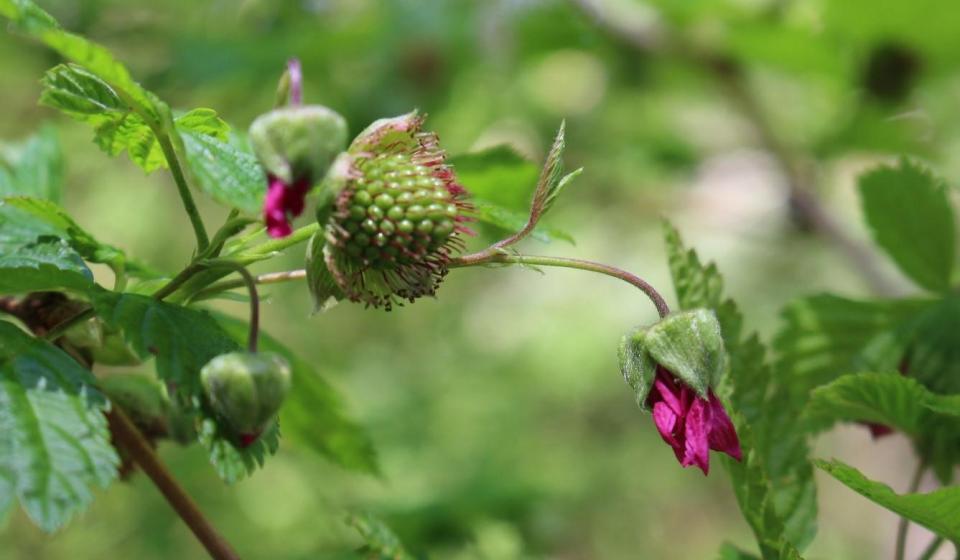 2017 MABR BioBlitz
The Mount Arrowsmith Biosphere Region Research Institute is hosting the annual MABR BioBlitz on April 22nd. The main objective of this project is to build off the successes from the 2016 Mount Arrowsmith Biosphere Region (MABR) BioBlitz, and expand the event in 2017. In 2017, we hope to expand the event by monitoring fauna, and adding marine surveying to the event. Guided from community feedback from our last event, our goal is to expand the event each year for community members who have experience in Blitzing, while continuing to train new participants on how to Blitz. The 2016 MABR BioBlitz was a great success in terms of meeting our original objectives which included: [1] hosting a BioBlitz event as part of the Brant Wildlife Festival in 2016; [2] promoting student research through outreach in the local community; and, [3] contributing to long-term monitoring of flora and fauna in the MABR.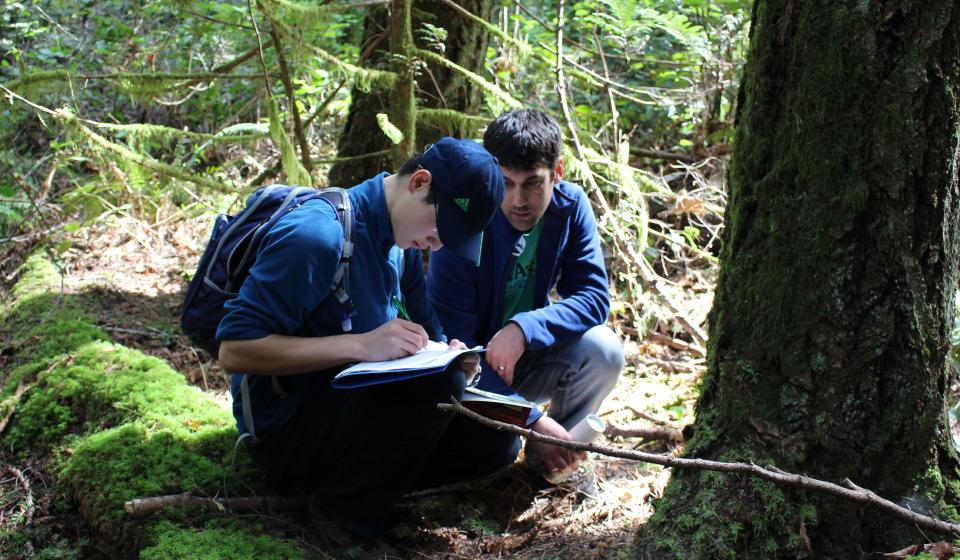 Global Observational Research Initiative in Alpine Environments (GLORIA)
In the summer of 2016 MABRRI partnered with Kristina Swerhun, to continue long-term alpine monitoring on four summits of Mount Arrowsmith. The aim of the project is to develop long-term, world-wide databased of standardized observations of alpine biodiversity, vegetation patterns and mountain-top temperatures.  Monitoring and data collection takes place every five years to assess any visible changes. Information aims to capture the effects of climate change on these unique alpine ecosystems.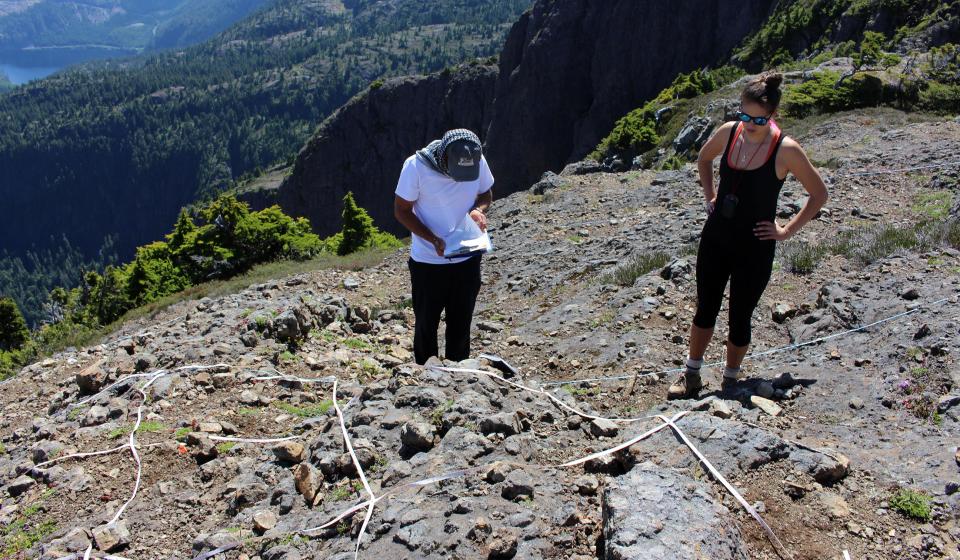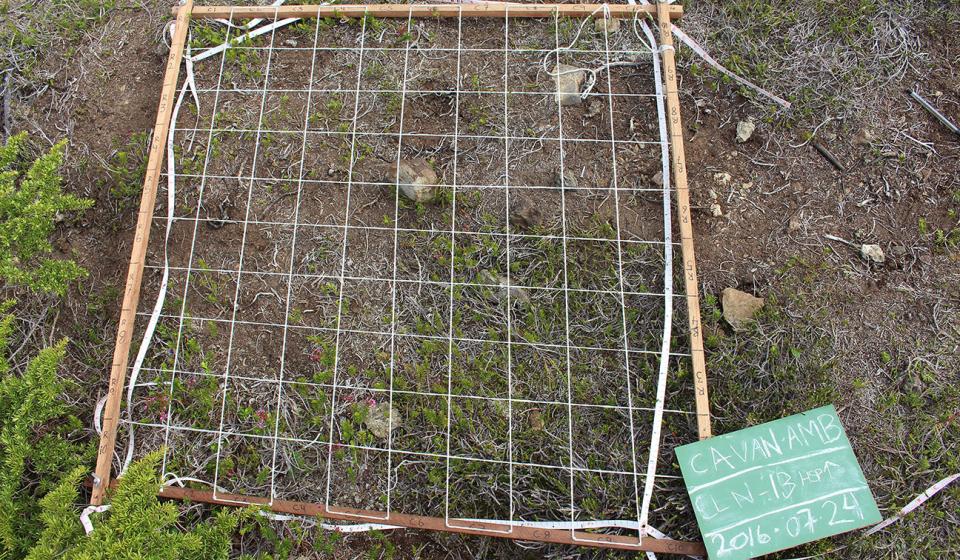 Cameron Lake Bathymetric Mapping
MABRRI has partnered with Dr. Max Bothwell, an Emeritus Research Scientist at the Pacific Biological Station who works for Fisheries and Oceans Canada, on their newest mapping project. MABRRI will be generating an updated bathymetric map of Cameron Lake; the most recent was produced in 1951. The bathymetric map will be created following the Ministry of Environment's Bathymetric Standards for Lake Inventories, which requires the student research assistants to conduct transects back and forth across the lake, recording the depth along the transects. All of the data collected will be brought back to the GIS specialists at MABRRI to input and analyze in order to produce the map that showcases the lake's profile. This map will illustrate if there has been any significant changes in Cameron Lake in the past 60 years. Additionally, the students have acquired aerial photos, both historic and current, which will be digitized using GIS to identify how the shoreline has changed overtime.
All of the mapping that is produced will be provided to Dr. Max Bothwell, as he and his team of researchers will be collecting core samples from Cameron Lake in July 2018. The core samples will provide archival data regarding the past climate of the region, as well as historical changes in land cover. Dr. Bothwell is focusing on Cameron Lake because it is the largest surface water body in the Little Qualicum watershed, as well as in the MABR. The finalized bathymetric map and shoreline analysis map will both be provided to him as a tool to choose his sample sites. Further, Dr. Bothwell has expressed interest in providing MABRRI's research assistants with the opportunity to aid himself and his colleagues with the core sample collection, which will be another amazing opportunity for MABRRI students!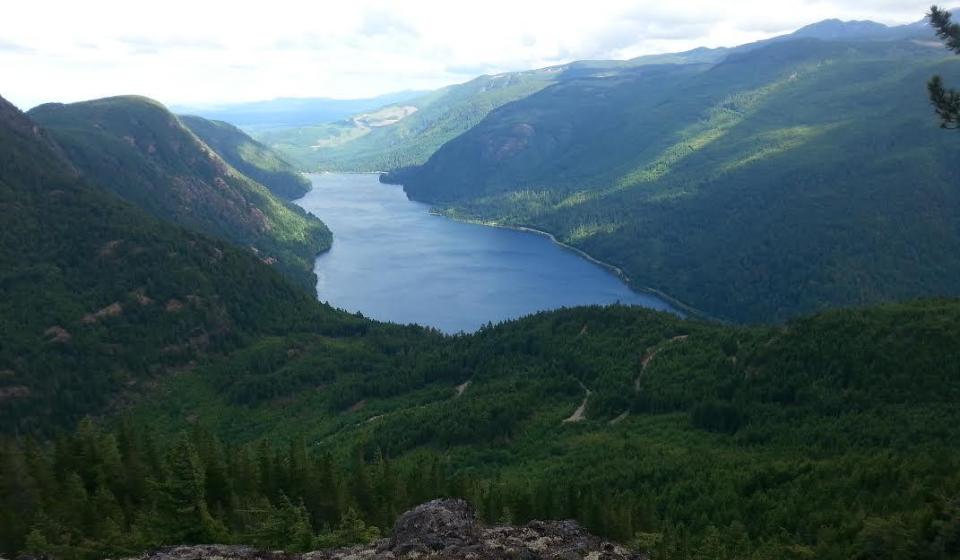 Snaw-Naw-As Education & Outreach Program
MABRRI broke ground and began construction of the Snaw-Naw-As Garden of Spiritual Healing at the beginning of May 2017. By mid-May there were Snaw-Naw-As Elders in the garden planting vegetables in the garden boxes that had been finished and put in place. When the summer season was complete MABRRI had made significant progress having built around 14 garden boxes, a greenhouse, a toolshed, a pathway, and a fence to enclose everything in an attempt to stop deer from getting to the vegetable garden. When winter, and the rainy weather that comes with it, began approaching MABRRI switched the project's focus to begin working on the education and outreach component. It was decided that students would research a topic and present an educational course to the Snaw-Naw-As community on a variety of topics.
In September and October, five students from a variety of departments at VIU, including nursing, geography, anthropology, and psychology were hired to begin developing one educational course each. Prior to hiring students, MABRRI had nine topics pertaining to different aspects of gardening approved by the Snaw-Naw-As Elders from which the students could choose to base their educational courses on. Some of the different topics students had to choose from included the mental and physical benefits of gardening, therapeutic benefits of gardening, seed to compost, growing a garden, and healthy cooking. Once topics were selected and research began, the students were able to meet with the Snaw-Naw-As Elders to have lunch and present their ideas and topics to receive feedback with regards to what they would like to learn in each of the proposed courses. The students will begin instructing these education and outreach courses to the Snaw-Naw-As community in March of 2018.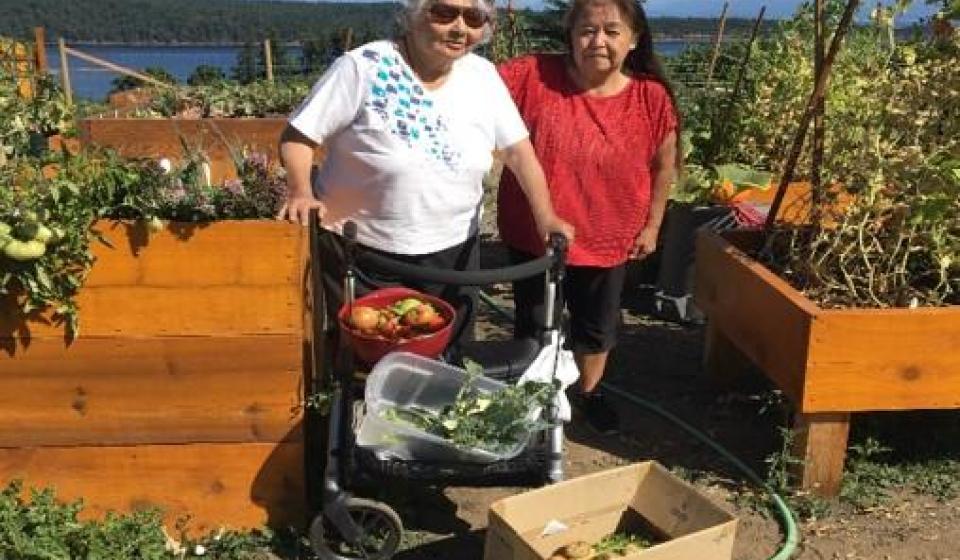 Shelly Creek Education & Outreach
Over time, due to development of the surrounding area, the Shelly Creek watershed's health has degraded. The development and installation of increasingly more impermeable surfaces has resulted in a greater amount of surface runoff flowing directly into Shelly Creek. The greater volume of water surges into the creek has caused significant erosion, which has led to sediment build up in some of the lower sections of the creek, negatively impacting the quality of salmon spawning habitat. Additionally, the changes in surrounding land use have resulted in less water being retained in higher sections later in the year, which is impacting the resident cutthroat trout population. In the summer of 2017, the Mid-Vancouver Island Habitat Enhancement Society (MVIHES) had a Water Infrastructure Engineer conduct a water balance and sediment reduction plan for the Shelly Creek watershed. In this report, the engineer identified the major issues that were causing the erosion and the decline in the extent of water in the summer. Further, the engineer determined and explained six mitigation strategies that could be implemented to improve the health of the watershed.
In September 2017 Peter Law, from MVIHES, approached MABRRI with a potential project that would complement their current restoration efforts in the Shelly Creek watershed. He asked MABRRI to come up with a community engagement strategy that would effectively communicate the issues and mitigation strategies to the communities that neighbour the Shelly Creek watershed, Parksville and Errington. Ultimately, MVIHES would like to disseminate this information to increase interest in their restoration efforts and build capacity to restore more of the watershed to a healthier state, with a specific focus on the lower reaches where Pacific salmon are known to spawn. In addition to developing a community engagement strategy for MVIHES to approach knowledge dissemination in these areas, we also created hand-out materials that will aid MVIHES in the initial stages of gaining interest from the communities.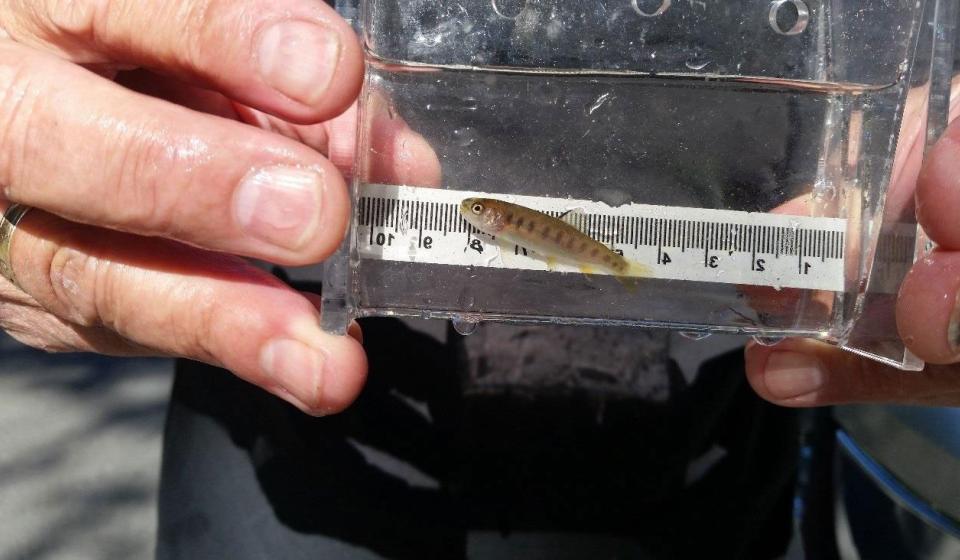 Garry Oak Ecosystem Mapping Project
In partnership with Dr. Hannah Wilson from VIU's Geography Department, MABRRI will begin the Garry Oak Ecosystem Mapping Project early in 2018. The project aims to gain a better understanding of the location and extent of vulnerable Garry Oak Ecosystems within the MABR. Because of their status, their highly fragmented present-day distribution, and because they are more biodiverse than any other ecosystem in Canada, understanding where they are located is crucial to understanding their current wellbeing and how to continue conserving them in the future. Identified locations will be mapped by VIU student researchers, and surrounding land use analysis will help determine whether or not the location is vulnerable to encroachment or other potential impacts.
International Journal of UNESCO Biosphere Reserves
The publication of scientific research in journals is the primary means of disseminating scholarly ideas, concepts, theories, and findings.  For researchers interested in the 669 Biosphere Reserves [3] currently designated by the Man and the Biosphere (MAB) Programme of the United Nations Educational, Scientific and Cultural Organisation (UNESCO), an in-depth review initiated by Prof. Martin Price in 2013 and continued by Dr. Pamela Shaw in 2015 (to be published in a future issue of the Journal) revealed that a wealth of information across a wide range of disciplines was being published.  However, given differences in terminology and the great diversity of publications involved, the materials developed were not always available to individuals involved in the World Network of Biosphere Reserves (WNBR). In addition, obtaining articles at no cost was not a simple matter for biosphere reserve staff and volunteers who were not affiliated with academic institutions.  Beyond this, a mechanism for bringing together information on the range of community-based and applied, practical activities currently undertaken within many biosphere reserves was simply not available.
A solution proposed was the development of a new journal for biosphere reserves.  While there are certainly other reputable scientific journals that accept submissions on this topic, this new journal would address a host of issues that present barriers to sharing and disseminating research across the WNBR and all those interested in what takes place within biosphere reserves.
This new journal is fully interdisciplinary: instead of focusing on a selected scientific research sub-area, it is a resource for sharing information across disciplines and into practice, promoting the cross-pollinization of ideas and creating new research connections.  It can therefore be regarded as a contribution to the implementation of the Lima Action Plan for the MAB Programme and its WNBR (2016-2025).  This calls not only for applied research in biosphere reserves, but also for an active and open interdisciplinary network of scientists and knowledge holders working in and with biosphere reserves, with a joint research and knowledge exchange agenda.  We hope that this journal will become a key mechanism for this emerging network.
The journal is, in perpetuity, a digital, Open Access, subscription-free publication. This makes for more cost-effective publication, reduces the ecological footprint of the journal, and allows for full-colour/full-spectrum production across range of digital formats.  This new format is part of a wave of new journals that are abandoning the confines of paper publications and embracing a digital future that includes video, audio, full-colour mapping, and interactive formats that are not limited by the challenges of publication costs and hard copy dissemination. This format also allows for a much shorter delay between submission and publication.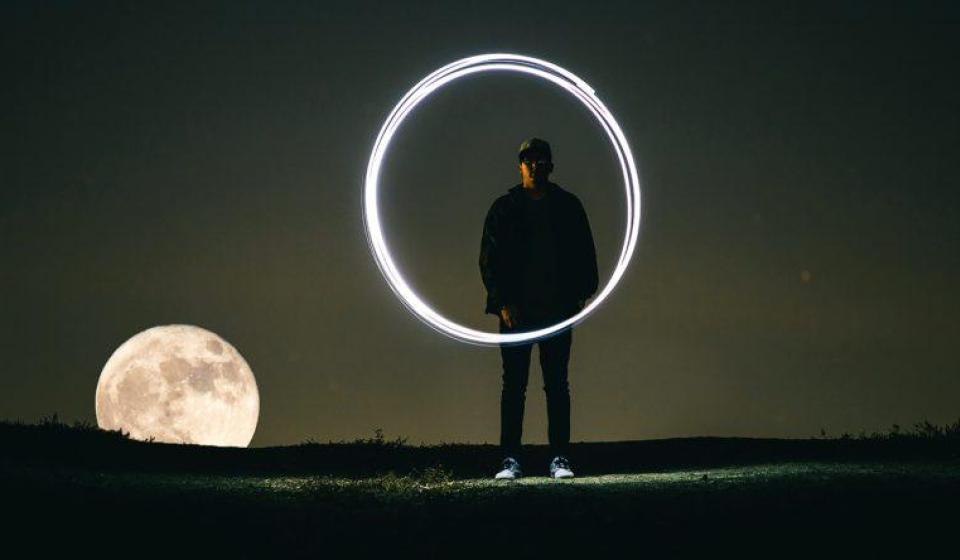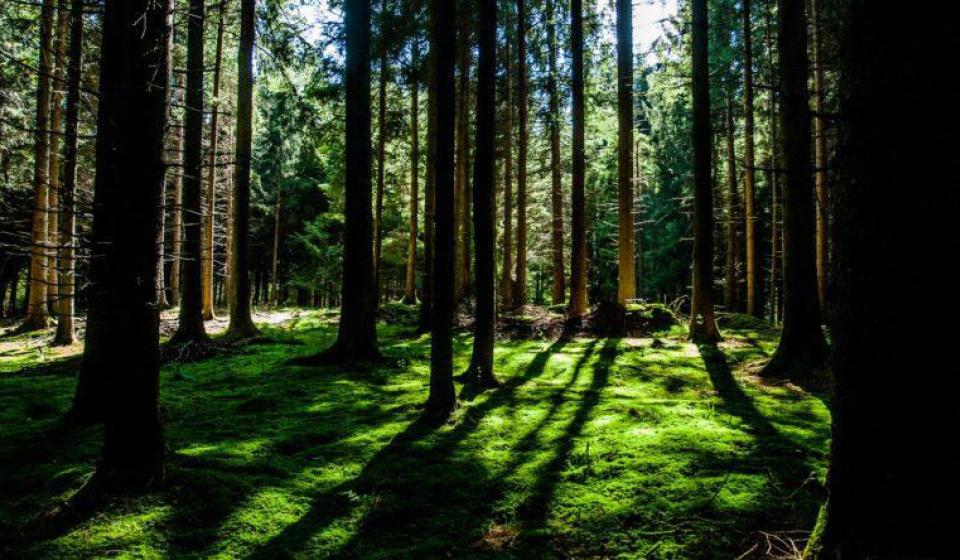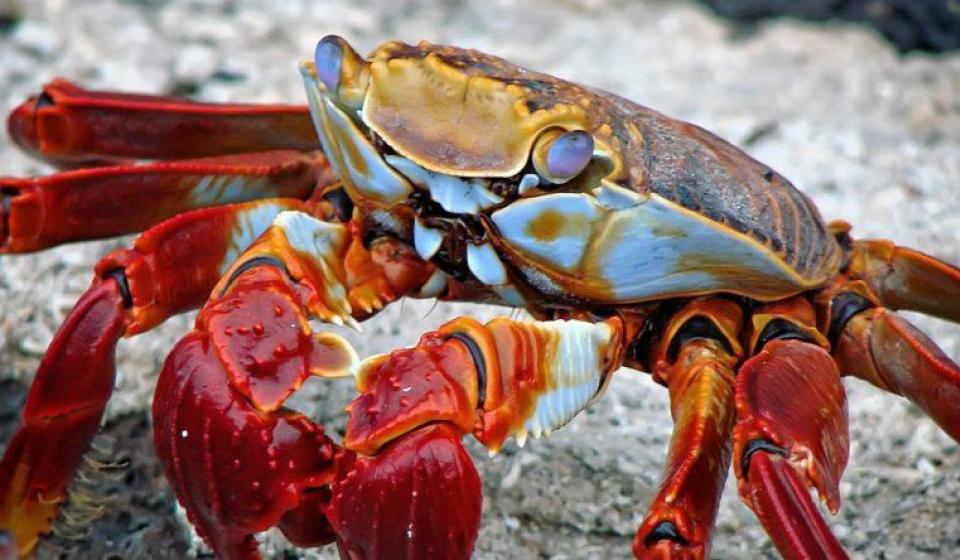 Lake Monitoring in the Little Qualicum Water Region
Lake Monitoring in the Little Qualicum Water Region began in 2016 as a trial-monitoring program funded by Vancouver Island University's Research Awards Committee. The main goal of the project was to train VIU students on monitoring lake health following the BC Lake Stewardship Society's standards (BCLSS).  Student researchers prioritized data collection in both Cameron and Spider Lake during the first year of the project and will continue monitoring the lakes for three years (through 2018). Student researchers are measuring and recording water clarity, surface temperature, dissolved oxygen and other water chemistry parameters. All data collected will contribute to the BC Lake Stewardship Society's (BCLSS) lake monitoring program to help gauge the current health of our the lakes. This project has the ability to become a long-term research project for VIU students. Each year as the program expands we hope to add more lakes within the RDN to our monitoring program.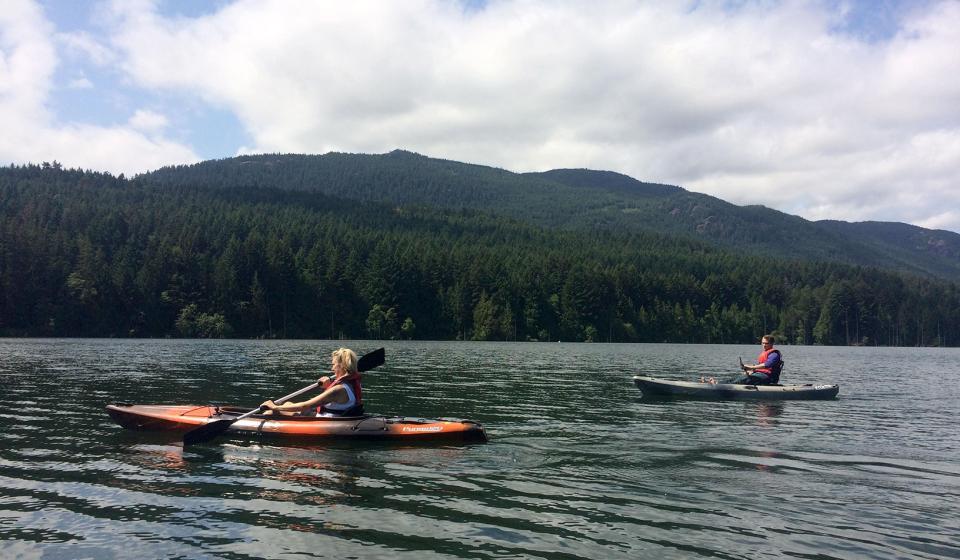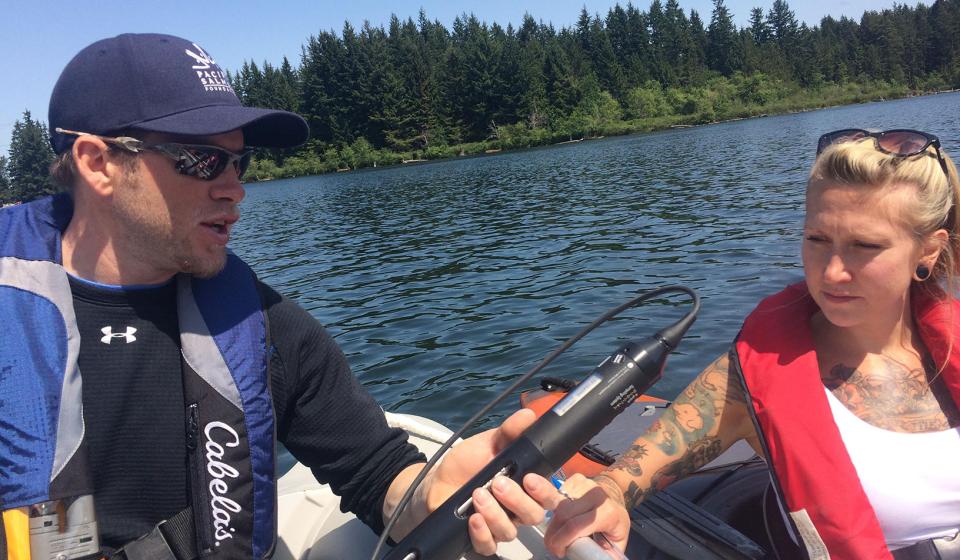 Snaw-Naw-As Garden of Spiritual Healing
Snaw-Naw-As First Nations completed the construction of the Community Health Centre in 2013.  The plans to site a Garden of Spiritual Healing adjacent to the Health Centre have been in progress for many years, but have only recently moved significantly forward. As is often the case, shortages in funding, human resources, and project management time to devote to the garden have limited the capacity for carrying out this initiative.  However, through new collaborations with the Mount Arrowsmith Biosphere Region Research Institute (MABRRI) and community support, plans to establish the garden have re-emerged and are progressing quickly. MABRRI has been working on a design process for the garden with Snaw-Naw-As First Nation and is assisting their Health Centre staff to apply for funding.  A garden committee consisting of Snaw-Naw-As First Nation community members, and Elders has helped guide the development of the garden. The garden construction is scheduled to begin in mid-late April 2017. The garden will provide four complementary uses: community education, health and wellness, food security, and community gathering space.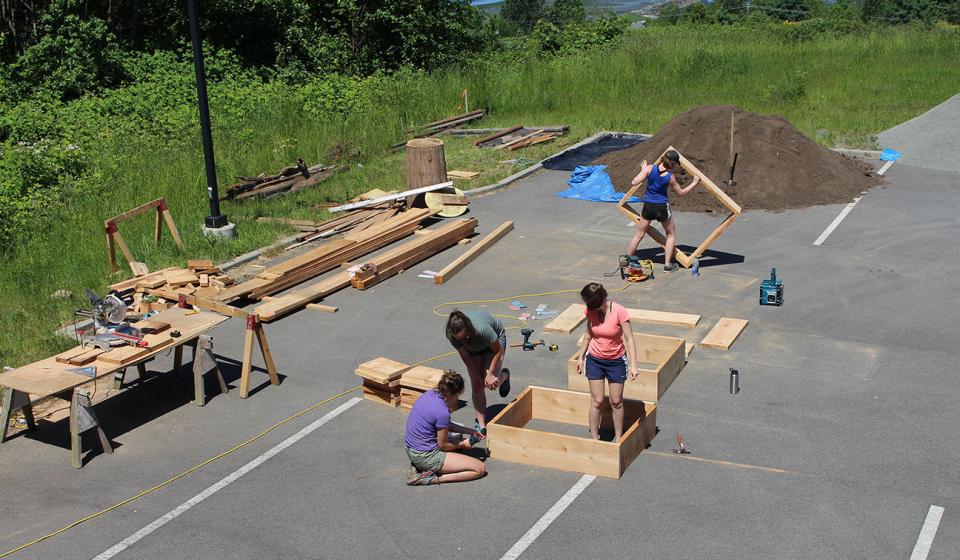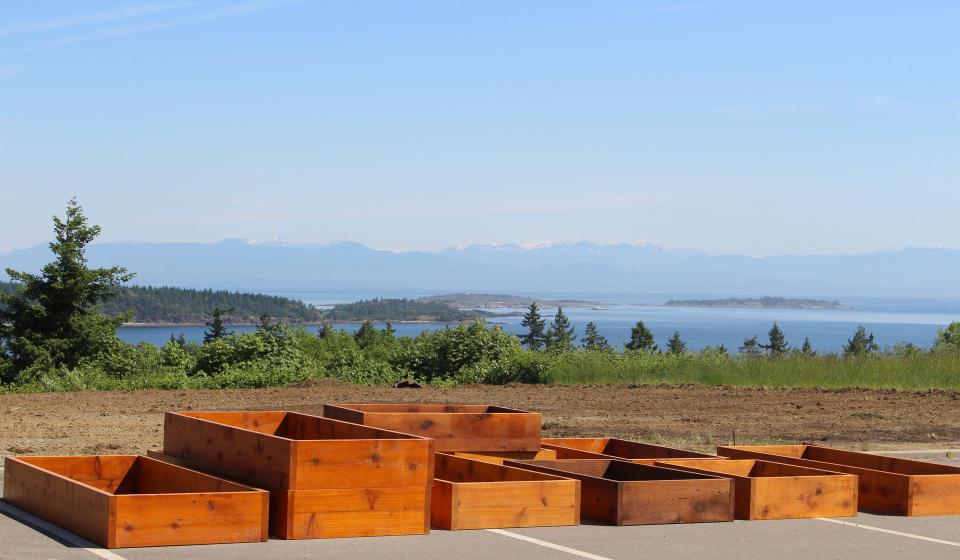 MABR Environmental Monitoring App
Development of the Mount Arrowsmith Biosphere Region Environmental Monitoring App began in 2016 upon receiving funding from the North American Partnership for Environmental Community Action. This project takes a community-based, participatory approach to creating new online mapping for the Mount Arrowsmith Biosphere Region.  The app has involved VIU students, faculty and community members to give feedback and input in order to determine the types of fields the community would like to see and how information will be disseminated. The app aims to record data in real-time using handheld devices (phones or tablets) and the collector for ArcGIS app.  The app will allow users to record observed features (e.g. indigenous plants of cultural significance, recent landslides) or issues (e.g. cougar sightings, invasive species). Information collected by citizens will then be reviewed by the Mount Arrowsmith Biosphere Region Research Institute (MABRRI) and incorporated into a "living" community map linked to the MABR website. Recorded data would then become available to the public and researchers and would form the basis of several roundtable discussions to review current issues and develop new research goals.  The app target launch date is March 19th at the Parksville Water Day event.