MABRRI's research coordinator, VIU students, and faculty associates work with community partners to create and conduct research projects that advance our understanding of people and nature--and the interaction between these--On Vancouver Island. Listed below are some of the projects that MABRRI is currently working on. If you are curious about projects that are currently happening within the MABR check out our Current Projects in the MABR page.
Gold River Parks and Trails Master Plan
MABRRI has partnered with the Village of Gold River to create a Parks and Trails Master Plan that will help guide the Village's parks and trails development over the next 10 years. The project will consist of three major parts: 1) conducting a parks and trails inventory, 2) community comment collection and, 3) a community BBQ and open house. Completing a parks and trails inventory will highlight the current amenities in Gold River and their condition.  Through community comment collection we will be able to determine how the amenities are being utilized and the community's vision for their parks and trails. Lastly, the BBQ and open house will provide an outlet for the community to continue providing input and discuss their vision in a park setting. Following these three stages of the project, a draft Master Plan will be developed and presented to the Village of Gold River, one last round of consultation will take place and a final plan will be sent to Council for approval and adoption.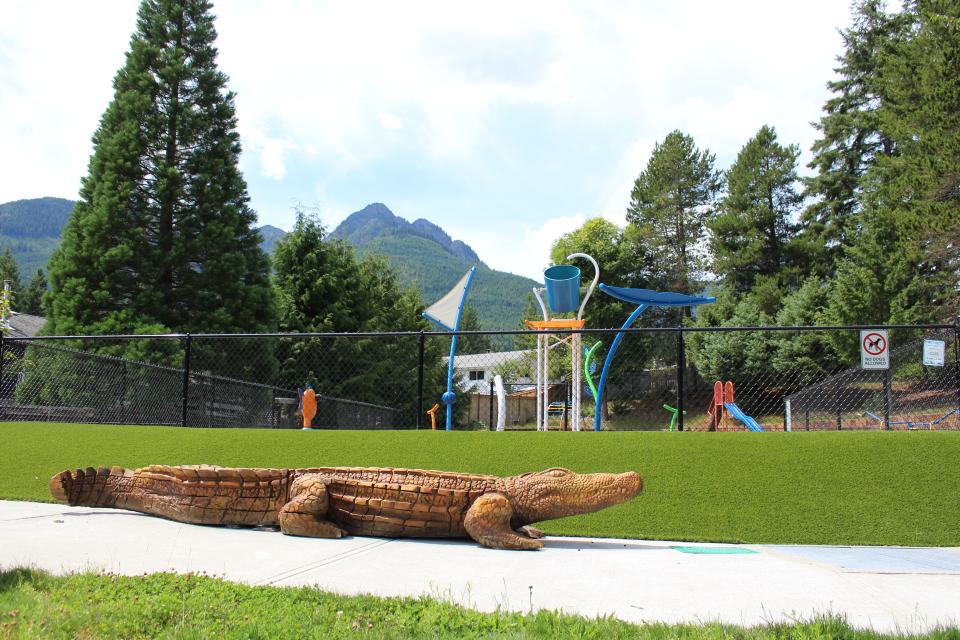 VIU & the UN Sustainable Development Goals
Throughout 2018, the MABRRI team investigated how Vancouver Island University is meeting the United Nations Sustainable Development Goals. Established in 2015, the "Global Goals" outline steps that nations can take towards social, economic, and cultural prosperity while simultaneously caring for and protecting the earth. The cooperation of many different sectors, including academic institutions, is necessary in order to achieve these 17 ambitious goals by the year 2030. Universities can play a major role in assisting nations in meeting these goals. Through an extensive literature review, over 40 meetings with VIU faculty and staff, and a Symposium event, the MABRRI team researched not only how VIU is meeting the SDGs, but what VIU can do moving forward to continue to meet them in the future.
The results of the work done throughout 2018 can be found in an extensive report here. This report, however, is unfinished, and MABRRI plans to continue this research throughout the 2019/2020 academic year by meeting with more faculty and staff at each of VIU's campuses. Keep an eye out for events happening on campus related to the SDGs next school year.
We wish to thank VIU's Office of the President for the funding to complete this project throughout 2018/2019, and for the further funding to continue this project throughout 2019/2020. We also wish to thank former VIU President, Dr. Ralph Nilson, for the opportunity to work on this project and his support throughout the process. We would also like to thank Robin McLay, Senior Advisor to the President, and Patrick Brennan, Special Advisor to the President, for their advice and support. We also wish to thank Mark Holland and Rebecca Mellet for presenting at our symposium in October of 2018. Finally, we would like to thank all the faculty and staff of VIU that generously volunteered their time to meet with us and provide valuable information to this study to date, for the faculty, staff, and students that attended the symposium and provided recommendations for this report, and for the volunteers that helped to facilitate the event.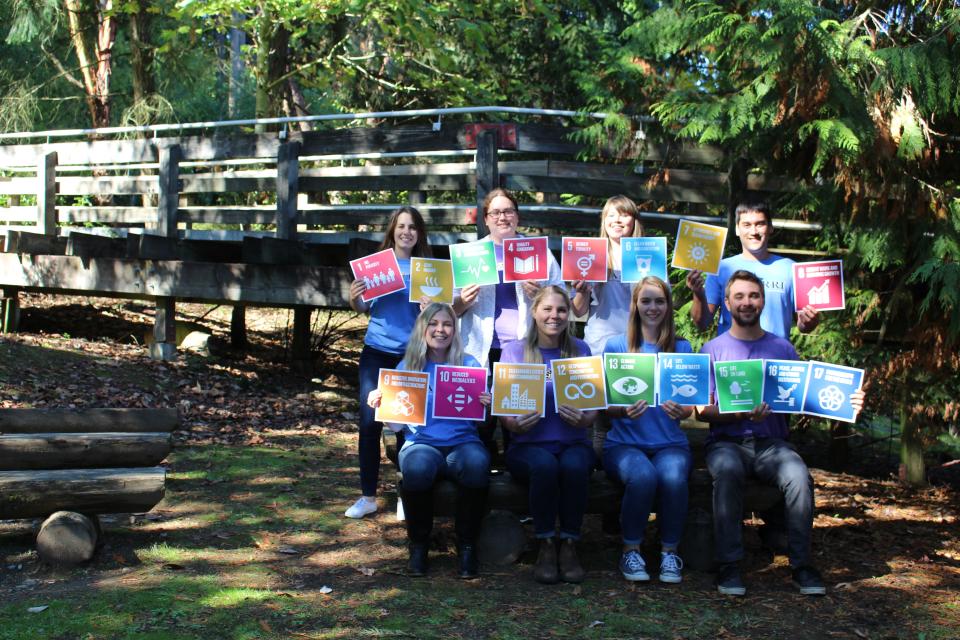 City of Campbell River Environmental Bench Marking
Development along our costs and water sources can pose risk to fish and wildlife species and habitat.  As such, federal, provincial, and municipal governments have developed regional timing windows, which are periods of time during the year where development may be carried out with the lowest risk. Terms and conditions for these timing windows vary based on regional differences in fish and wildlife species, habitat, and geography.
The City of Campbell River has asked MABRRI to conduct background research to determine work windows that pose the least risk to the natural environment, and to develop easy to understand graphics and materials to hand to the public.
Additionally, the City of Campbell River has many groups of dedicated stream-keepers and citizen scientists working within Nunns, Simms, Kingfisher, and Willow Creeks. MABRRI will work with these groups to develop urban stream report cards. These report cards will be used to standardize the data collected and collection methods and to help to determine urban stream health.
Bull Kelp Monitoring & Enhancement Plot Project
This pilot project involves the installation of one bull kelp seeded line planted at two different locations, one of which is within the MABR. The general purpose of the project is to attempt to re-establish bull kelp populations in the lower regions of the Strait of Georgia. Unfortunately, over the past few decades there has been a significant loss of bull kelp in this region. Bull kelp, when dense, forms forests that are rich in diversity, providing food and security. Since biodiversity within and surrounding bull kelp forests has been so well documented, MABRRI will also be conducting underwater surveys where species richness will be documented. This will aid MABRRI in determining how quickly this type of ecosystem can be re-established and to what capacity.
For the 2019 growing season, we have been seeing quick growth of individuals, although there is evidence that the kelp are experiencing some heat stressors with epizoan encrustations occurring on the individuals and the ends of the fronds beginning to become tattered. The MABRRI team is hopeful that we will see the bulk of the individual bull kelp produce sori (spores) by the end of the season, as there has been some sori production already occurring earlier in the season.
MABRRI would like to thank the following individuals and organizations that have helped them along the way, including Environment and Climate Change Canada, Project Watershed, Sundown Diving, Hornby Island Diving, Green Sea Kelp Co., and our volunteer divers. Their advice and services have enabled this project to be a success!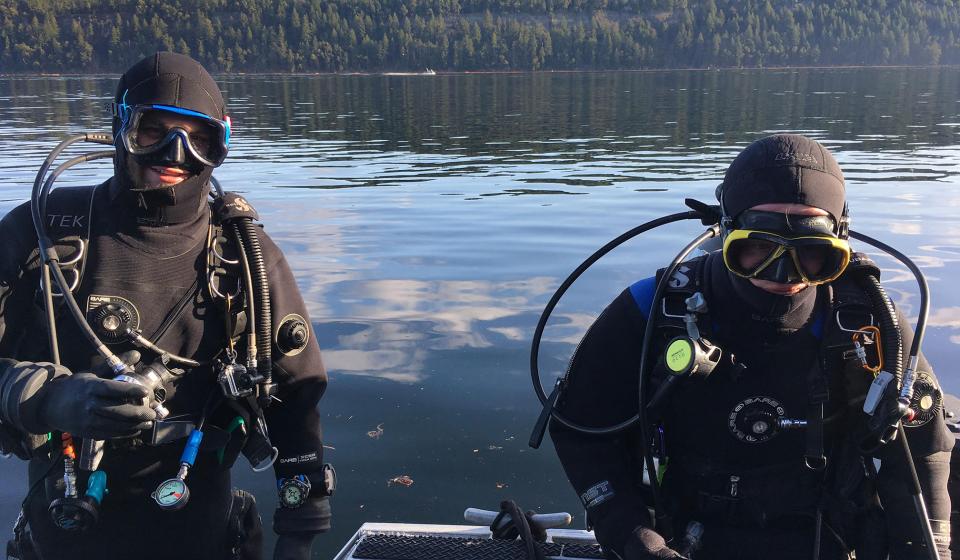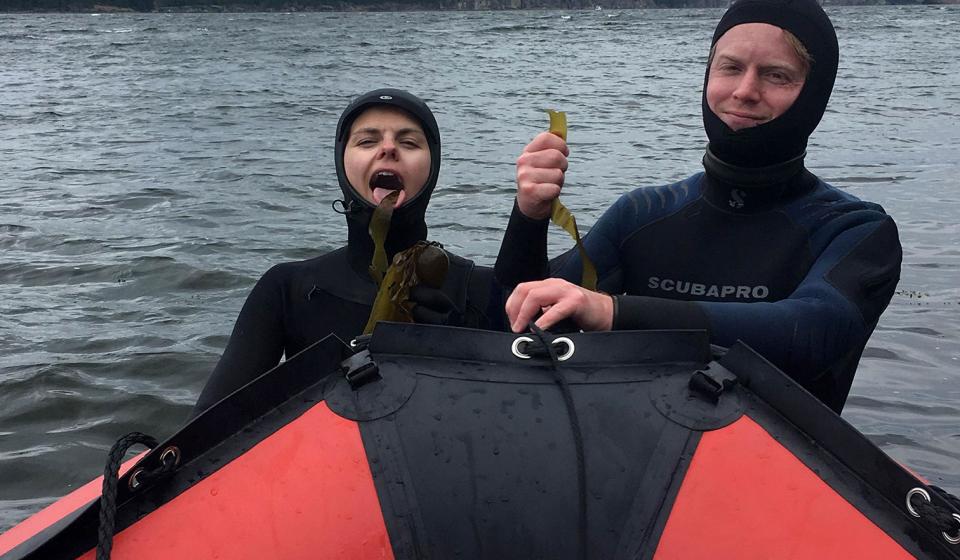 Research Assistants Chrissy Schellenberg and Brian Timmer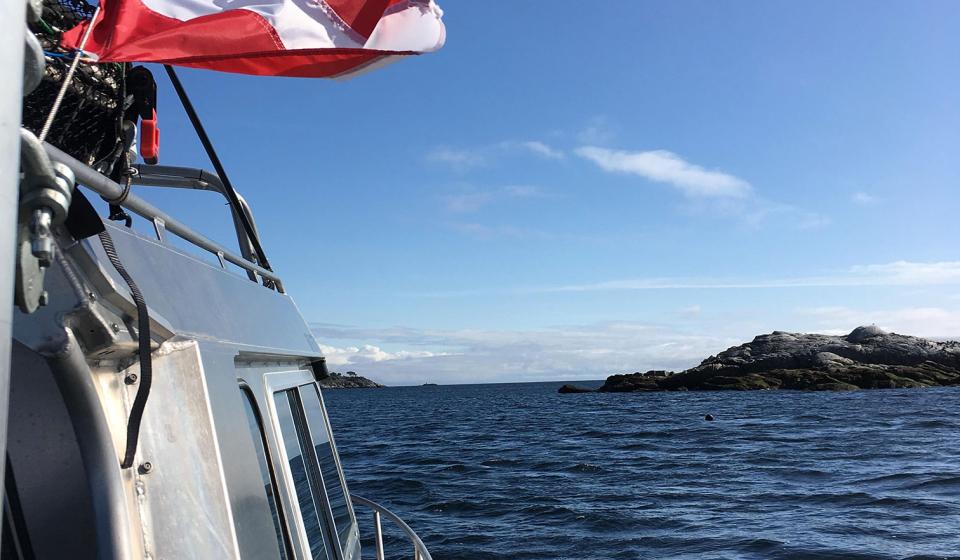 Preserving language and knowledge pertaining to native plants traditionally used by Snuneymuxw First Nations
MABRRI student researchers are working with Geraldine Manson and elders from the Snuneymuxw first nation to identify, research and map native species, sites, and soils occurring on the Nanaimo, Vancouver Island University Campus in order to determine suitable locations to plant native plants traditionally used by Snuneymuxw First Nations for medicinal purposes. Once sites have been determined we will plant species among the campus, and have signage and mapping associated with each species in an effort to help preserve the traditional medicinal values, language, and knowledge pertaining to each species. Once the initial portion of this research is completed, we can then develop programs and courses that can be offered at Vancouver Island University at the Aboriginal Gathering Place, and have Snuneymuxw traditional knowledge holders teach others about the important values, uses, and cultural significance related to native plants.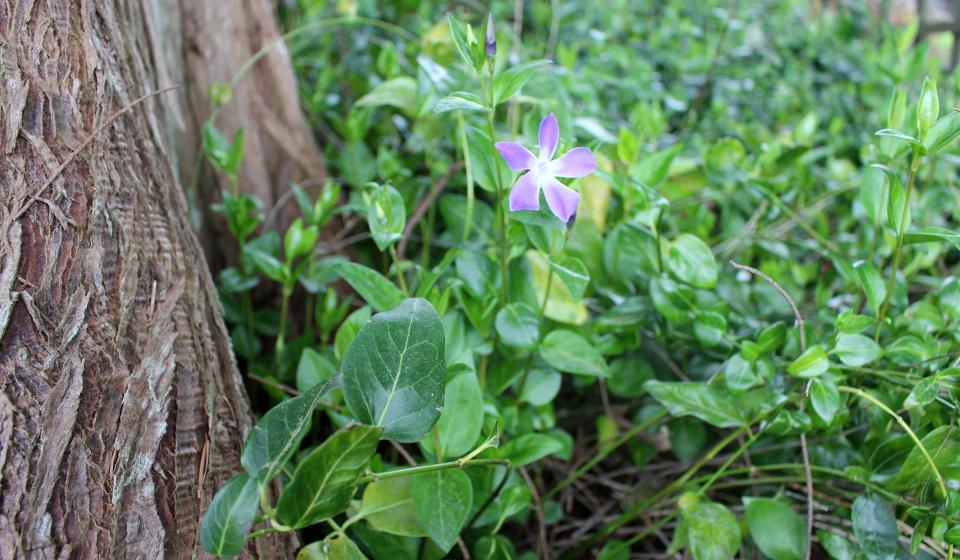 Forage Fish Spawning Habitat Monitoring
The project began in October 2017 when Phillip Dionne, a Nearshore and Forage Fish Scientist from the Washington Department of Fish and Wildlife came to Nanaimo to train MABRRI employees how to sample for forage fish embryos, specifically Pacific sand lance and surf smelt. Phillip taught the MABRRI team the newest forage fish sampling methodology, referred to as the "vortex method". This method is more efficient, more effective, and more community-friendly than previously used sampling methods that have been used in the past. Following the training session will Phillip, MABRRI worked with Pam Thuringer, retired marine biologist and WWF Canada volunteer, to modify the sampling protocol to suit our study. Only minor adjustments were made and they were done so to allow us to focus our efforts on where and when the forage fish are spawning rather than determining their densities.
Beginning in January 2018, two students from the Advanced Diploma in GIS Applications were hired to assist with the development of predicative mapping for forage fish spawning habitat. Over 30 maps were generated, depicting the areas of coastline that were identified as suitable forage fish habitat using the model developed by Coastal and Ocean Resources Incorporated. The maps covered the area that spanned from approximately Bowser south to Sooke, the Canadian Gulf Islands, and a small portion of the mainland, including Burrard Inlet. These maps, alongside MABRRI's on-the-ground approach, are used to identify potential forage fish spawning habitat up and down the coast.
In mid-2018, MABRRI began training local community stewardship groups. Each group is provided with the equipment and training needed to conduct sampling for forage fish embryos in their region. Although sampling first began in the Mount Arrowsmith Biosphere Region, MABRRI's efforts to identify suitable forage fish spawning habitat has expanded, including sites as far south as Cowichan Bay and north to Bowser, as well as on Gabriola and Thetis Islands. It is anticipated that with further funding and project growth the boundaries will continue to expand north, as well as include more Gulf Islands. In each of these regions that the project expands to, MABRRI is hopeful that community stewardship groups are keen to take on some of the sampling. By including community stewardship groups, we are able to sample a greater amount of the coastline in any given sampling window then would be possible with just the MABRRI team.
If you or your stewardship group are interested in contributing to this continuously growing project, please contact Haley Tomlin, MABRRI's Assistant Research & Community Engagement Coordinator, at Haley.Tomlin@viu.ca for more details.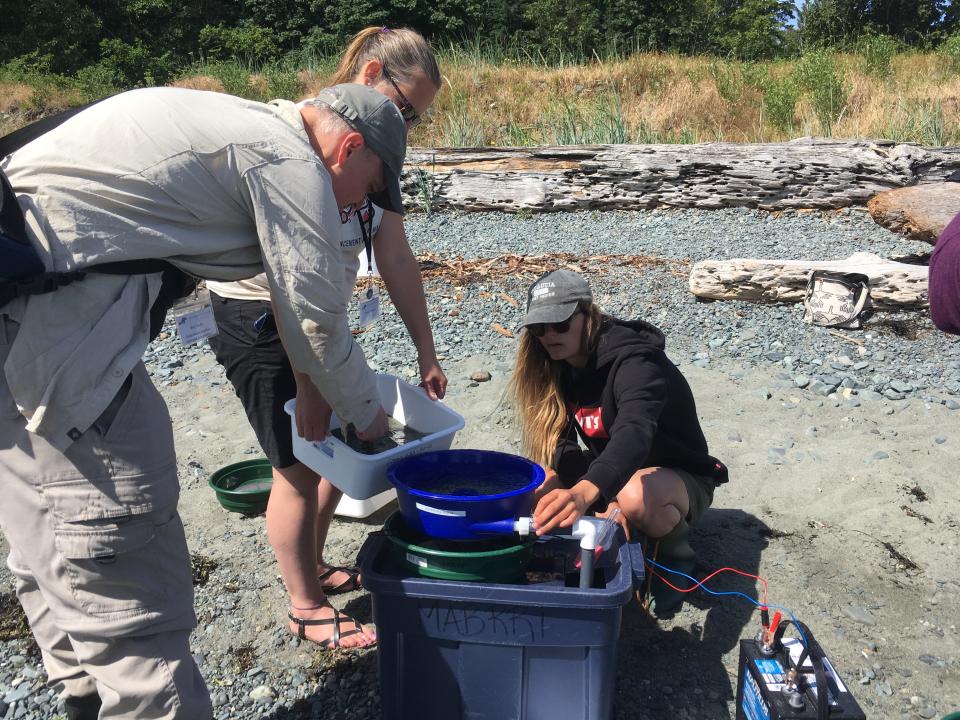 Westwood Farm Project
MABRRI has once again partnered with VIU's Workplace Essential Skills and Training (WEST) Program and Nanaimo Foodshare Society on another project. This year, our research assistants are working on an environmental inventory and assessment of a 48 acre farm. The farm resides within the East Wellington area of Nanaimo that is home to a myriad of flora and fauna year round. With minimal disturbance, the farm and its surroundings are a haven for many species during critical periods of their lives such as breeding, mating, and migration season. A portion of the land is being utilized for agricultural purposes by Nanaimo Foodshare for their Good Food Box program, providing healthy, locally grown products to the Nanaimo community at a cost effective price.
The goal of our project is to identify the species that use the farmland, and the surrounding ecosystems that influence the farm, including Cathers Lake. Cathers Lake is a manmade lake which feeds into the Millstone River by way of Sabiston Creek on the Westwood Farm property. Initially used as an irrigation system for the farm decades ago, the lake is now surrounded by a neighbourhood who all enjoy what the lake has to offer. Here, you can find the threatened and native Western Painted Turtle. We intend to wrap up our research with a report outlining the importance of these ecosystems and the recommended steps to ensure the protection and enhancement to benefit both the wildlife and the community utilizing said areas.
District of Lantzville Zoning Bylaw Illustrations
The District of Lantzville is in the process of updating their Zoning Bylaw. In spring 2019, the District approached VIU to assist in developing illustrations for their Zoning Bylaw. Illustrations are used to help convey to readers many of the important concepts within the bylaw. MABRRI staff will be working alongside staff at the District for the duration of the project to create approximately 30 illustrations.
City of Campbell River Tree Protection Bylaw (TPB)
MABRRI is working with the City of Campbell River to draft a Tree Protection Bylaw. The focus of the project is to analyze a variety of tree protection approaches in other communities, and provide the City with well-researched options and background research, leading to the creation of a draft bylaw.
In 2015, the City developed an Urban Forest Management Plan, which communicates how trees contribute to a high quality of life, and establishes a target of 40% canopy cover in Campbell River's urban areas. Within this document, the City also set an objective to develop a bylaw for the protection and replacement of trees. 
The MABRRI planning team will work with the City over the course of summer 2019 to draft a bylaw to help conserve trees within the city.
Malahat First Nation Project
This newly formed partnership is a five-year agreement, where VIU will assist Malahat First Nation on a range of projects. Year one will provide an opportunity for scoping out priority issues and developing mapping projects with extensive flexibility in managing the arc of projects. Each project will be fully and indivudually scoped, then seperately agreed to, by both parties.  We are excited to announce this new partnership and agreement and look forward to updating our project description when more news comes our way!